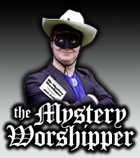 See our archive of reports
Famous/infamous
UK & Ireland
USA
Oz & NZ
Canada
Elsewhere

If you would like to become a Mystery Worshipper, start here.
1055: Covent Garden Evangelical, Covent Garden, London

Read this report | Other comments

8 January 2013

I see that you last visited Covent Garden Evangelical Church (CGEC) in 2007.
I was wondering if you would be visiting the church again in the near future? They are now Hope Community Church (CGEC and Immanuel Community Church merged in 2008) and meet up on Sunday mornings at 10.30 in Covent Garden and on Tuesday evenings at 7.30pm at Fairshare in Berwick St, Soho.
They meet up on 1st, 3rd and 4th Sunday evening at Fairshare, Berwick Street, Soho at 5.30pm.
It would be interesting to see from an outsider's point of view how the church service and congregation has changed during the last few years.
Regards
Sharon Berk



We rely on voluntary donations to stay online. If you're a regular visitor to Ship of Fools, please consider supporting us.



Easter 2010

From Yunnan in China to Louisville in Kentucky, we report on Easter services, 2010. Read here.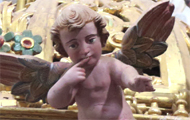 The Mystery Pilgrim

One of our most seasoned reporters makes the Camino pilgrimage to Santiago de Compostela in Spain. Read here.