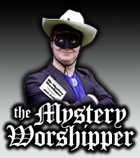 See our archive of reports
Famous/infamous
UK & Ireland
USA
Oz & NZ
Canada
Elsewhere

If you would like to become a Mystery Worshipper, start here.
1049: The Redeemed Christian Church of God, Tooting, London
Read this report | Other comments
1 March 2007

What member of Christ are you? I know that not all who say "Lord, Lord" are actually approved of God. Are you qualified to pass judgment on others? You remind me of the Pharisees. If it is not like we do it, it can't be genuine. St Matthew 7:1-5 is what I suggest you read. The Apostle Paul in the Bible says we should be happy wherever the name of God is blessed and propagated. Are you one of those organs that are deliberately set up to look like you are working for Christ but really your mission is to lead astray the confused, ignorant or disgruntled before they ever find their way to God?

I must say I find your article on The Redeemed Church of God (Tooting Branch) most distasteful. Whatever be your mission – to lead people astray or to get a kick out of running churches down – I suggest you read the Acts of the Apostles properly. There are curses for the kind of thing you are doing. Every church service need not be like the ones you grew up in. That is the beauty of Christ. He is able to relate to everyone in their own special way. If as many as you say actually attend the service and get closer to God, then Christ will be mightily pleased.

What is the matter if you were the only white people? If you truly believe that colour does not matter as we are one before God, you will not be embarrassed. You should not make fun of people's names. Yours would most certainly sound funny to other people, too, until they get to know what it means, or why you were chosen to be named as you are.

For those who are widely travelled, they would know that in Nigeria there is nothing wrong with the Redeem Service and many others like it. That is how they relate to God. Go to your type of church if that is what will make you grow. That is what is expected of you. Remember what God says Christians should do about the little foxes. I hope you are not one.

Yes, a house divided amongst itself can't stand. Satan knows this and you are making yourself the perfect tool to cause just that little drift in people's life that takes them far from God. I hope you are not! That is exactly Satan's mission and there is a beautiful reward for him – eternal frustration and damnation. If you are Satan's tool, the Bible promises you a rough time. Perhaps you already are and you need more people to join you in your black hole. Now is the time to repent and undo the great harm you have done.

You need to truly discover Christ. There are many books you can read. Your local pastor that you trust so much can help you. You really should not be calling yourself a Christian just yet. Going to church doesn't make you one, you know. When others work against Christ and his people, when they set bombs to blow people like you and me away, when they go on the street blaspheming and calling us names, we should not grumble. That knife we stab in our own back is more damning.

It is not my place or my business to be ashamed of you. The most important thing is that God should not be! I will be praying for your soul. You need to do the same for yours and the time is now.


14 March 2006

Thank you so much, whoever did the report on the Redeemed Christian Church of God, Tooting, London. I pass that garish orange banner at eye-level every Sunday morning as I sit on the 57 bus, on my way to a rather more traditional Anglican service at St Mark's Wimbledon. I've always wondered what they get up to, but I would never have found the courage to put my nose inside the door.

Thanks again, and I lurv the website!

Rachel Kirkwood



We rely on voluntary donations to stay online. If you're a regular visitor to Ship of Fools, please consider supporting us.



Easter 2010

From Yunnan in China to Louisville in Kentucky, we report on Easter services, 2010. Read here.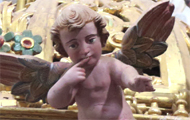 The Mystery Pilgrim

One of our most seasoned reporters makes the Camino pilgrimage to Santiago de Compostela in Spain. Read here.