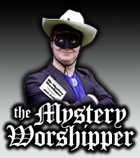 See our archive of reports
Famous/infamous
UK & Ireland
USA
Oz & NZ
Canada
Elsewhere

If you would like to become a Mystery Worshipper, start here.
1048: Hinde Street Methodist, Marylebone, London
Read this report | Other comments
7 June 2005

Hiya. I'm a regular at Hinde St Methodist, and I'd just like to make something clear about latecomers to the services.

The church draws people in from all over the capital (most live between five and 25 miles from the church) and we tend to be quite relaxed about arrival times, preferring that people appear. The vagaries of London transport can mean that, yes, we do turn up late. I was at the 11 that morning (although I do go to the 10 sometimes), and I had rather a lot of... fun getting in.

But yes, we are as welcoming at all our services as at the 10am.

God Bless

Angel of the North



We rely on voluntary donations to stay online. If you're a regular visitor to Ship of Fools, please consider supporting us.



Easter 2010

From Yunnan in China to Louisville in Kentucky, we report on Easter services, 2010. Read here.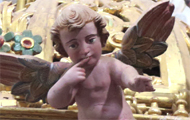 The Mystery Pilgrim

One of our most seasoned reporters makes the Camino pilgrimage to Santiago de Compostela in Spain. Read here.