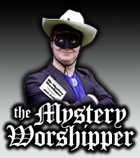 See our archive of reports
Famous/infamous
UK & Ireland
USA
Oz & NZ
Canada
Elsewhere

If you would like to become a Mystery Worshipper, start here.
1039: Regent Square United Reformed, Bloomsbury, London
Read this report | Other comments
10 May 2005

The Mystery Worshipper report on Regent Square URC was interesting, but perhaps a little confused. I'm not sure Regent's Square would self-describe as evangelical – from the report and my own experiences I'd describe it as a mainstream liberal URC.

The building to the right of the church isn't just the church hall – it is the central offices of the denomination (the Presbyterian Church of England was based here prior to union). I believe the church is the third one on the site, having been rebuilt in the late 1950s following bombing. Lord Reith (of BBC fame) laid the foundation stone.

The Irvingites (Catholic Apostolic Church), who built the church of Christ the King in Bloomsbury, started here before seceding from the Presbyterian church.

Gordon Woods



We rely on voluntary donations to stay online. If you're a regular visitor to Ship of Fools, please consider supporting us.



Easter 2010

From Yunnan in China to Louisville in Kentucky, we report on Easter services, 2010. Read here.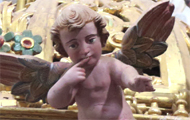 The Mystery Pilgrim

One of our most seasoned reporters makes the Camino pilgrimage to Santiago de Compostela in Spain. Read here.