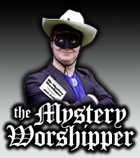 See our archive of reports
Famous/infamous
UK & Ireland
USA
Oz & NZ
Canada
Elsewhere

If you would like to become a Mystery Worshipper, start here.
1034: The Salvation Army, Regent Hall, Oxford Street, London
Read this report | Other comments
13 May 2005

Wow, thanks so much for coming to see us! You got a lot of things right: we are a family church, we are welcoming and we are crazy busy! Sorry if our "doing" meant that me missed out on some "being" with new people. We'll get better with God's help.

I'm so pleased you like the choirs (I led the kiddies' one) – we're really blessed with some great musicians. You asked about where non-musicians would fit in, which is a good question. They're very much a part of our church. We have a group of students (30 in all) and many of them are not in the musical sections. Some of them lead discipleship classes for the younger kids, others organise our social and fundraising events and others help in the worship band (we do have one, but some were missing when you visited, and so the band didn't take part that week).

I hope you come visit us again soon. We'll try and get coffee sorted for the afternoons! May God bless you in your crazy work for him and may his glory be shown because of it!



We rely on voluntary donations to stay online. If you're a regular visitor to Ship of Fools, please consider supporting us.



Easter 2010

From Yunnan in China to Louisville in Kentucky, we report on Easter services, 2010. Read here.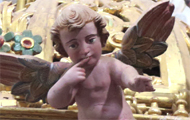 The Mystery Pilgrim

One of our most seasoned reporters makes the Camino pilgrimage to Santiago de Compostela in Spain. Read here.