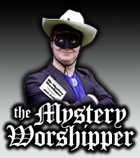 See our archive of reports
Famous/infamous
UK & Ireland
USA
Oz & NZ
Canada
Elsewhere

If you would like to become a Mystery Worshipper, start here.
1023: Kingsway International Christian Centre, Hackney, London
Read this report | Other comments
16 October 2006

I am a worshipper at KICC and have just read your review. I feel the constant reference to ships makes the whole review unclear and somewhat jovial, and places of worship are not something to joke about. The house of God is not something to be taken lightly. There is also no real insight into what KICC offers at a church.

The flags represent the various nations that worship at KICC and I for one am proud to see my country represented at my church.

I would give KICC a 10 and would recommend it to any believer who is looking for a somewhere to call their own.

This is a church where God is honoured for who he really is and you can grow and mature spiritually.

Lastly, the term "happy clappy" is disrespectful in your worship section. To use this term to describe a church which is worshiping the king of kings is a disgrace, especially coming from other Christians.

Phillida



We rely on voluntary donations to stay online. If you're a regular visitor to Ship of Fools, please consider supporting us.



Easter 2010

From Yunnan in China to Louisville in Kentucky, we report on Easter services, 2010. Read here.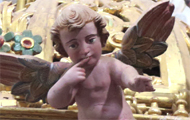 The Mystery Pilgrim

One of our most seasoned reporters makes the Camino pilgrimage to Santiago de Compostela in Spain. Read here.