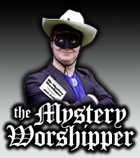 See our archive of reports
Famous/infamous
UK & Ireland
USA
Oz & NZ
Canada
Elsewhere

If you would like to become a Mystery Worshipper, start here.
1021: All Saints, Margaret Street, London
Read this report | Other comments
3 November 2005

Interesting observations about Evensong and Benediction at All Saints, Margaret St., and the congregation/clergy being mute or stand-offish.

In the old days – by that I mean, early to mid-1970s – after both the High Mass, and Evensong and Benediction, there was a load of alcoholic beverages served in the undercroft. After the Mass, in addition to heavy-duty cocktails, a full luncheon was available.

At that time, the people in the parish seemed the opposite of reticent.

So, between the incense, and the booze flowing like a river, I found myself as high as a kite! It was all I could do to drag myself back in the evening for the Evensong service; hung-over, basically.

The reviewer's comments on the music ring true, now as then.

David Dunkle


28 October 2005

Dear Sir

Your worshipper who went to All Saints, Margaret Street, should have been aware that the passing of the peace is not a part of an ordinary Evensong, let alone Solemn Evensong. This individual also seems to have found something to remark about the silence. Send him or her to a Quaker meeting next.

Bernard Collard
Oxford, England



We rely on voluntary donations to stay online. If you're a regular visitor to Ship of Fools, please consider supporting us.



Easter 2010

From Yunnan in China to Louisville in Kentucky, we report on Easter services, 2010. Read here.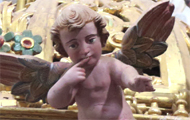 The Mystery Pilgrim

One of our most seasoned reporters makes the Camino pilgrimage to Santiago de Compostela in Spain. Read here.