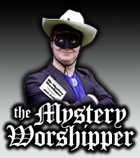 See our archive of reports
Famous/infamous
UK & Ireland
USA
Oz & NZ
Canada
Elsewhere

If you would like to become a Mystery Worshipper, start here.
1005: King Charles the Martyr, Tunbridge Wells, Kent, England

Read this report | Other comments

15 September 2016

I've just read the Mystery Worship report on King Charles the Martyr with great interest.

The only thing I would like to take issue with are the comments regarding after service coffee. I am on the coffee rota to help out and wanted to say that we never serve instant coffee! It is always freshly brewed filter coffee. The coffee "elves" leave the service before the last hymn to get the brew going!

Also, no payment is ever asked for. People contribute a few coins to an open saucer if they wish to (as someone has to purchase the refreshments).

Anyway, just wanted to clear that up.

Krystyna Rogerson



We rely on voluntary donations to stay online. If you're a regular visitor to Ship of Fools, please consider supporting us.



Easter 2010

From Yunnan in China to Louisville in Kentucky, we report on Easter services, 2010. Read here.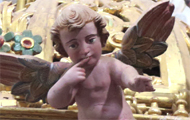 The Mystery Pilgrim

One of our most seasoned reporters makes the Camino pilgrimage to Santiago de Compostela in Spain. Read here.