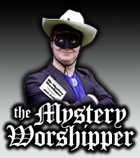 See our archive of reports
Famous/infamous
UK & Ireland
USA
Oz & NZ
Canada
Elsewhere

If you would like to become a Mystery Worshipper, start here.
1: Kensington Temple, London

Read this report | Other comments

30 July 2013

I read your mystery report on Kensington Temple, London, with some interest. There were some important points made, which I believe the leadership at KT will take into consideration as they seek to move the church forward in Jesus Christ. However, there are some issues raised in the report that I wish to comment on:

How full was the building? Every single seat was taken.

Thank God! A quick trip to many churches around Britain – empty pews, sleeping church attendees etc – will explain my comment. I am sure all of you agree. The more people that are exposed to God's Word in one place or any place, the better.

Was your pew comfortable? My rather ancient plastic seat with chrome legs was OKish for comfort.

Again, Thank God! In parts of the world, comfort and pews for Christian worshipers are totally alien concepts, never mind comfortable seats. But I am sure you all know this, so why it came up, I do not know.

How would you describe the pre-service atmosphere? "Informal" is probably the best word.

You know what I am going to say – Thank God! Who wants to have a stuffy, dogmatic, regimented, formal preservice atmosphere anyway? Informal is the way to go. I believe it was pretty much the same in the early church just after the death and resurrection of Jesus.

What were the exact opening words of the service? "Good morning! Would you please stand up. Are you ready to praise God?"

I am sure that you agree that praising God is EXACTLY what should be done in a service – or anywhere else for that matter.

What books did the congregation use during the service? Everyone seemed to have brought their own Bible (except me – tut!).

Next time take your own Bible. However, it would be good for people to share their Bibles with others.

Did anything distract you? Yes: a middle-aged white woman, inexplicably dressed in an orange Indian sari and black trainers, who danced and jumped wildly during the singing.

Not sure why you were distracted, Nick. A middle aged woman dressed in a sari in central London? It is not really that uncommon. She danced and jumped wildly during singing? Maybe that is how she has been led by the Holy Spirit to praise and worship God (2 Samuel 6:14-23). Maybe her worship was pleasing to God, maybe not. That is for God alone to judge.

Was the worship stiff-upper-lip, happy clappy, or what? We had Pentecostal worship, but disappointingly, it never rocketed into the spiritual stratosphere.

Not sure what you meant by "but disappointingly, it never rocketed into the spiritual stratosphere." How exactly did you assess that? Again, it would be better to leave that assessment to God (1 Samuel 16:6-8). However, the fruits and gifts of the Holy Spirit are excellent spiritual evidence and, I believe, much more trustworthy (1 Corinthians 12, 14, Hebrews 2:1-4, Galatians 5:21-26).

And which part was like being in... er... the other place? When our white preacher called on his mostly Afro-Caribbean listeners to ... cry aloud to God for revival, with the words: "Don't go all British on me – half of you weren't even born here!"

You may not know this, but Pastor Colin was not born in the UK either. He was born in Africa, in Kenya, so understands Africans more than most, and is thus definitely in the position to make such a statement.

What happened when you hung around after the service looking lost? I went downstairs to the church's welcome area, but no one was welcoming me or the few other newcomers.

I believe this needs looking at. It is important for newcomers to be made to feel at home.

How would you describe the after-service coffee? Hot, instant, forgettable.

A service attended by 5,000 plus people might not have the best coffee. But read what Paul was inspired to say about this matter in Romans 14:14-20, especially Romans 14:17.

Did the service make you feel glad to be a Christian? Bits of it, yes, but I was mainly worried that if God likes this sort of worship, then he has no taste!

I believe the "taste" of God should be rightly left to Him. I refer you once again to 1 Samuel 16:6-8.

What one thing will you remember about all this in seven days' time? Gina's red suit, probably.

Oh dear. I can understand why to an extent. You had a different agenda as a Mystery Worshipper, so it seems the actual agenda of a worshipper – to praise and worship God – was sidetracked. But that is just my opinion. God, as always, has the final say.

Just one final thing: this Ship of Fools moniker. It is no doubt catchy and amusing, very British and self deprecatory, but consider this: "The fool says in his heart, 'There is no God.'" (Psalm 14:1). There are and will be no fools in heaven, so Ship of Fools for a follower of Christ is an oxymoron. It might be prudent (it seems to me) to reconsider this name. I believe you are not fools. Again, we have be called not to conform to the patterns of this world (Romans 12).

Thanks for your observations. I am sure they will be prayerfully reflected upon by the church.

Every blessing,

Mr Ike O




We rely on voluntary donations to stay online. If you're a regular visitor to Ship of Fools, please consider supporting us.



Easter 2010

From Yunnan in China to Louisville in Kentucky, we report on Easter services, 2010. Read here.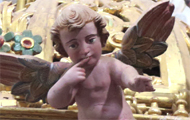 The Mystery Pilgrim

One of our most seasoned reporters makes the Camino pilgrimage to Santiago de Compostela in Spain. Read here.