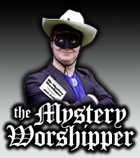 See our archive of reports
Famous/infamous
UK & Ireland
USA
Oz & NZ
Canada
Elsewhere

If you would like to become a Mystery Worshipper, start here.
90: St Hilary, Towbridge, Cardiff, Wales
Read this report | Other comments
11 October 2006

I'm contacting you about the write up on St Hilary's Church in Trowbridge, and what the mystery person had to say about the area. He/she was supposed to writing about the church and service, not about Trowbridge.

I have lived here all my life and I am unhappy that you have published on a website for the whole world to see that the area apparently has a "high crime rate, drugs and prostitution". This is a complete load of codswallop. The area does have all of the above, but no worse than any other Cardiff suburb.

I am planning on opening a cafe and after school club in the area soon and hopefully it will help towards bringing a little of the old Trowbridge back (which was a small and friendly estate). I feel that if your Mystery Worshipper got off her/his pew and tried to help instead of slagging the area, things might look up for us residents. Please remove this offensive comment asap. There is no need of it.

Yours, E Giles



We rely on voluntary donations to stay online. If you're a regular visitor to Ship of Fools, please consider supporting us.



Easter 2010

From Yunnan in China to Louisville in Kentucky, we report on Easter services, 2010. Read here.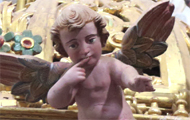 The Mystery Pilgrim

One of our most seasoned reporters makes the Camino pilgrimage to Santiago de Compostela in Spain. Read here.