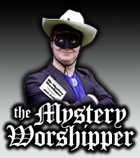 See our archive of reports
Famous/infamous
UK & Ireland
USA
Oz & NZ
Canada
Elsewhere

If you would like to become a Mystery Worshipper, start here.
81: Calvary Community Church, Westlake Village, California
Read this report | Other comments
7 February 2008

The organization is now and always has been a part of the Willow Creek Church Association, with Bill Hybels and company. They are closely affiliated with the Saddleback Association, with Rick Warren and company.

JG Connole
Thousand Oaks, CA


13 October 2006

Regarding your report on Calvary Community in Westlake Village, CA. Quote:

"A stand of oak trees was felled and mourned over to make room for this baby."

For the record, the building was originally a large industrial facility of the Eaton Corporation. It was purchased and "retooled" to be the present church. No trees were felled in that process.

Someone is trying to be too cute.

Sincerely

Cathy Powers
Thousand Oaks, CA



We rely on voluntary donations to stay online. If you're a regular visitor to Ship of Fools, please consider supporting us.



Easter 2010

From Yunnan in China to Louisville in Kentucky, we report on Easter services, 2010. Read here.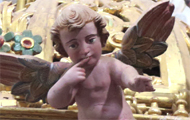 The Mystery Pilgrim

One of our most seasoned reporters makes the Camino pilgrimage to Santiago de Compostela in Spain. Read here.