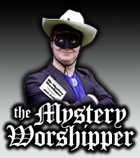 See our archive of reports
Famous/infamous
UK & Ireland
USA
Oz & NZ
Canada
Elsewhere

If you would like to become a Mystery Worshipper, start here.
28: Harvest Rock Church, Pasadena, California
Read this report | Other comments
27 February 2007

I feel very sorry for you. If you persist in what you do, you will spend eternity in a bottomless pit filled with black tar with only your head sticking out. Your entire body will be immobile and from time to time your head will be hit with a fireball coming out of the dragon's nose who is also in the tar pit with you.

This is the hell reserved for false prophets. There will be many like you there. Of course you can repent and avoid going there. Consider yourself warned.

Jae Cho



We rely on voluntary donations to stay online. If you're a regular visitor to Ship of Fools, please consider supporting us.



Easter 2010

From Yunnan in China to Louisville in Kentucky, we report on Easter services, 2010. Read here.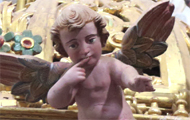 The Mystery Pilgrim

One of our most seasoned reporters makes the Camino pilgrimage to Santiago de Compostela in Spain. Read here.