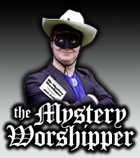 Comment on this report, or find other reports.

Our Mystery Worshippers are volunteers who warm church pews for us around the world. If you'd like to become a Mystery Worshipper, start here.

Find out how to reproduce this report in your church magazine or website.
Love Jesus and his gospel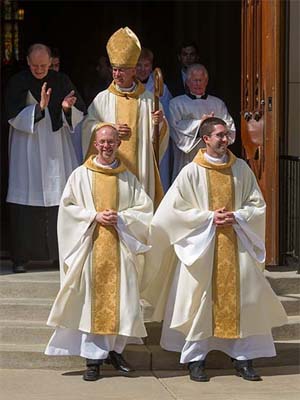 On Saturday, 26 April 2014, two members the Congregation of Holy Cross were ordained to the priesthood at Notre Dame, Indiana, USA: the Shipmate whom we know as Hart, and his fellow seminarian Patrick. A team of Mystery Worshippers was on hand to memorialise the occasion for posterity. Share with Hart and Patrick the joy of the moment as seen from the Ship's unique vantage point – the back row of pews, naturally!

> Christ leads at Lucernarium, Moreau Chapel, Notre Dame, USA
> Love Jesus and his gospel: Ordination Mass, Notre Dame, USA
> First mass: what would Luke and John think? South Bend, USA


Drawn in the Spirit's tether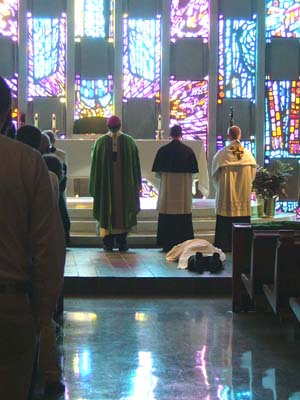 And previously, on Saturday, 7 September 2013, Hart and Patrick took their final vows in the Order of Holy Cross and were ordained to the diaconate. Once again, our Mystery Worshippers were there!

> Walk Christ's path: Lucernarium, Notre Dame, USA
> Concentrated joy: Basilica of Sacred Heart, Notre Dame, USA
> Deacon makes chalice: Seminary Chapel, Notre Dame, USA







We rely on voluntary donations to stay online. If you're a regular visitor to Ship of Fools, please consider supporting us.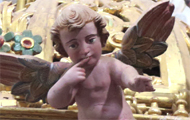 The Mystery Pilgrim

One of our most seasoned reporters makes the Camino pilgrimage to Santiago de Compostela in Spain. Read here.



London churches

Read reports from 70 London churches, visited by a small army of Mystery Worshippers on one single Sunday. Read here.