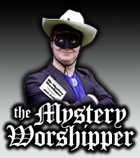 Comment on this report, or find other reports.

Our Mystery Worshippers are volunteers who warm church pews for us around the world. If you'd like to become a Mystery Worshipper, start here.

Find out how to reproduce this report in your church magazine or website.
756 Kilometres to Santiago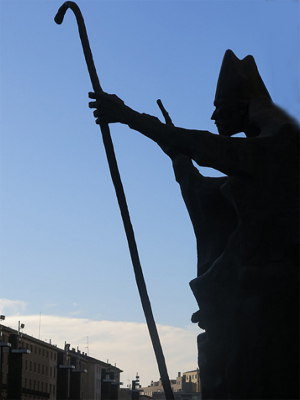 Augustine the Aleut, our Mystery Pilgrim on northern Spain's Camino, introduces his on-the-road reports along the ancient pilgrimage road.

I AM STILL NOT CERTAIN
why I walked 756kms to Santiago in September 2002. Before I left, I had reasons, articulate and convincing ones, but I have since forgotten them all.

Everyone on this ancient trail has their own reasons: in medieval times, walking to the tomb of the Apostle James was often prescribed as a penance. Of the 100 or so pilgrims I spoke with, I heard everything possible: thanksgiving for recovery from cancer, an exploration or pause for a new life following a divorce or a spouse's death, fulfillment of a vow, a respite from a period of stress. And I met those who had heard of it, quite by happenstance, and started walking. The excellent website of the UK-based Confraternity of St James will answer many practical questions.

Some bike the Camino and some drive (the disabled have little option, given the roughness of parts of the trail), but those who walk enter a time machine, to a world before cars, where the rising of the sun and its setting determine our hours. Perhaps the greatest change is entering a world with few choices – there will be two items on the menu (maybe) in the village's single café, one place to stay, and one church to attend.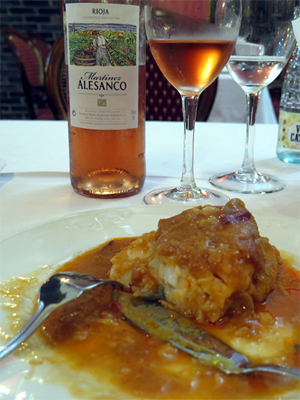 IN THE BAREBONES PILGRIMS' HOSTELS
you meet the most extraordinary and wonderful people – plus a few you would like to strangle, especially those who snore. Friendships made there will always stay with you, even when you lose touch completely. As we walked, a small perambulating village, we realized how lost we really are, and were driven to look out for each other.

I first penned these lines in 2002. Having walked the Camino several times since, I have only begun to understand how it has affected me. I came away with a great respect and affection for the feet which carried me so far, and an awareness that we must travel as lightly as we can. It confirmed what I was, but taught me lessons: time watching the sky is well spent; staff meetings are blasphemous wastes of time; café con leche in the morning is good; wine at dinner affirms the unity of creation.

The rewards of the Camino, aside from splendid calves, come bit by bit. I will always remember the gentle respect the Spanish, farmers, professionals, cops, students, everybody, showed us. They knew darn well we had no idea why we were doing this, but they honoured our efforts.

On completion in Santiago, we bemusedly, quietly, attached small scallop shells (the symbol of St James) or yellow arrows (the directional sign of the Camino) to our jackets and packs, and returned to our lives, such as they are. Not many recognize these symbols, but when they do, it surprises. One winter day, I entered a coffee house in Ottawa and this haiku records the incident:


Elgin Street Starbucks,
Muslim barista spots pin.
"Con leche, hajji?"



We rely on voluntary donations to stay online. If you're a regular visitor to Ship of Fools, please consider supporting us.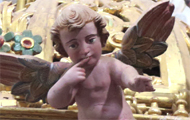 The Mystery Pilgrim

One of our most seasoned reporters makes the Camino pilgrimage to Santiago de Compostela in Spain. Read here.



London churches

Read reports from 70 London churches, visited by a small army of Mystery Worshippers on one single Sunday. Read here.