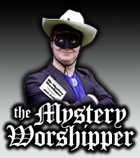 Comment on this report, or find other reports.

Our Mystery Worshippers are volunteers who warm church pews for us around the world. If you'd like to become a Mystery Worshipper, start here.

Find out how to reproduce this report in your church magazine or website.
844: Cathedral of St James, Santiago de Compostela, Galicia, Spain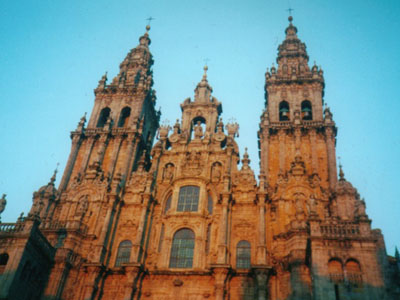 Mystery Worshipper:
Augustine the Aleut.

The church:
Cathedral of St James, Santiago de Compostela, Galicia, Spain.

Denomination:
Roman Catholic.

The building:
The cathedral is a huge Gothic and Baroque pile. The first church was built by Alfonso II in the 9th century, and built again by St Pedro de Mezonzo a millennium ago, but this church dates from the 13th century, with lots and lots of Baroque overlay from Spain's glory days of the 17th century. At the entrance is the pillar where you can shake hands with the Apostle James as you arrive from your pilgrimage. This is a striking and complex building, made holy by its associations – and marred by them as well. I was seated in the epistle transept, near a statue of St Salome, wife of Zebedee and mother of St James. I had never heard of her before, and now must remember her.

The neighbourhood:
The city was built around the cathedral and its shrine, with the apostle's tomb. Facing the cathedral is the town hall, and to the right is the ancient Hospital of the Catholic Kings, originally for pilgrims, but now a very pricy Parador for those with 170 Euros to spare for their bunk. Around is a collection of hotels and restaurants to serve (and profit from) the hordes of pilgrims, mounted and motorized, and the tourists. Canterbury must have been similar, once upon a time.

The cast:
A triple-chinned priest in his 50s (name not available) and about six or seven other priests, vested in chasubles, or in albs and stoles. There was also a series of readers, one of whom may have been a German priest. There was a nun who served as cantor; a strong alto with a high clear voice.


What was the name of the service?

Pilgrims' mass, with blessing.


How full was the building?

The cathedral was packed to the gills, with many standing in the aisle. Perhaps there was over 1,000, most of whom were pilgrims, although the greater part were charabanc pilgrims. There were about 200-300 foot pilgrims, many of whom had walked straight to the cathedral from the Camino, without showering or changing. The aisles were stacked with backpacks and walking sticks.


Did anyone welcome you personally?

I don't think that they do that sort of thing here.


Was your pew comfortable?

Yes, with a good broad seat.


How would you describe the pre-service atmosphere?

Restive... there were so many types of people here, with so many different stories. There were several hundred elderly Portuguese pilgrims who had bussed in, and there were the others who had walked, as had I, the 756km, and there were hundreds of Spanish students who had done their 100km to get their Compostelas. And then there were tourists, many Roman Catholic, but others who had no affiliation. I could not tell why we were all there, but we were waiting for something.


What were the exact opening words of the service?

"En el Nombre del Padre, y del Hijo, y del Espiritu Santo."


What books did the congregation use during the service?

In the Spanish manner, no books were available, nor were there any leaflets. Many knew the Novus Ordo by heart, in their respective languages. The rest of us were left to do the best we could – it was obvious that many of the foot pilgrims had no familiarity with the rite.


What musical instruments were played?

A spectacular gilt organ. The German priest sang "Lobe den Herren", and was joined by the German pilgrims, and the occasional Anglican with too much musical knowledge.


Did anything distract you?

What didn't distract me? There was this huge number of Portuguese pilgrims, then a transept full of those of us who had walked – and were smelling that way... one understands incense when one is in a church full of smelly people. Standing by a pillar was a young teuton, blond and striking, looking much like a younger Leni Riefenstahl, weeping and overcome with emotion. Then there were the brown-robed vergers, taking up the collection with red velvet sacks, while Gounod's "Ave Maria" was playing.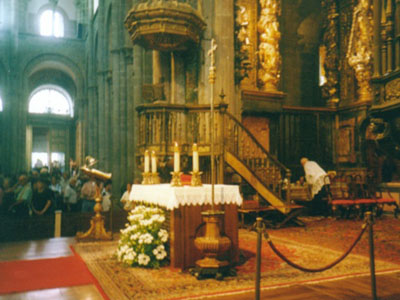 Was the worship stiff-upper-lip, happy clappy, or what?

The triple-chinned prelate took us through the mass fairly efficiently. A series of pilgrims from different nations came up for the intercessions in French, Italian, German, Portuguese and Spanish. While the celebrant had a vaguely despotic air about him (well, the main drag leading away from the Cathedral was the Calle Franco), all went smoothly.


Exactly how long was the sermon?

17 minutes, entirely in Spanish. Given that the majority of the congregation was not Spanish-speaking, this may not have been a good idea. I had the impression we were being lectured and that we had been very naughty.


On a scale of 1-10, how good was the preacher?

2 – Even if I had understood him, I would have given him a failing mark.


In a nutshell, what was the sermon about?

Good question.


Which part of the service was like being in heaven?

The overwhelming emotion in the cathedral, which was a palpable presence. We may not have known why we were there, but we were there for a reason; and we may not have known where we were, but we were somewhere; and it was important, and it was all right.


And which part was like being in... er... the other place?

The annoying triple-chinned celebrant. The smell of several hundred unwashed walkers... and I had chosen one of the days when the legendary bottafumeiro (the giant thurible) was not operating on its pulleys suspended from the ceiling. O Lord, I prayed for incense.


What happened when you hung around after the service looking lost?

Well, this was not an intimate parish gathering, was it? Weeping Leni needed Kleenex, so I passed her some tissues, and then I walked out into the Square of the Silversmiths and stood around with other pilgrims. We looked at each other, knowing that we had all done the same Camino, a bit startled at the fact that our walk was over. We supposed that we had lives to get to, and all drifted off, some in groups, some alone.


How would you describe the after-service coffee?

Much to my surprise, I met a fellow pilgrim I had not seen for weeks, who had worked in a hospice for the dying for four years, and was now taking a break. We had walked together for a day, engaged in a six-hour intimate conversation in broken English and broken German. It was time to sit and have a glass of wine, so we sat in a square at the back of the cathedral and drank our wine and sat without saying anything, not needing to, not being able to.


How would you feel about making this church your regular (where 10 = ecstatic, 0 = terminal)?

0 or 10, I think. I'm not certain.


Did the service make you feel glad to be a Christian?

Not in those words, but yes.


What one thing will you remember about all this in seven days' time?

Leni? The overpowering smell? The Berlin hospice-worker in birkenstocks, squinting against the sun in a square in Spain? Perhaps it was when I stood in the crypt before the sarcophagus of St James. That was extraordinary and I am still thinking of it. Was this the closest I've been to Jesus? Standing in front of a silver box where someone who had stood with him might now be resting? And the Pilgrim's Prayer...

"Lord, you called your servant Abraham out of Ur of Chaldea and watched over him in all his wanderings; you guided the Jewish people through the desert: we ask you to watch over your servants here who, for love of your name, make the pilgrimage to Santiago de Compostela. Be for us, a companion on the journey, direction at our crossroads, strength in our fatigue, a shelter in danger, resource on our travels, shadow in the heat, light in the dark, consolation in our dejection, and the power of our intention; so that with your guidance, safely and unhurt, we may reach the end of our journey and, strengthened with gratitude and power, secure and happy, may return to our homes, through Jesus Christ, our Lord. Apostle James, pray for us. Holy Virgin, pray for us."

More Camino reports



We rely on voluntary donations to stay online. If you're a regular visitor to Ship of Fools, please consider supporting us.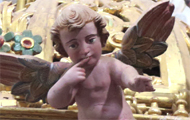 The Mystery Pilgrim

One of our most seasoned reporters makes the Camino pilgrimage to Santiago de Compostela in Spain. Read here.



London churches

Read reports from 70 London churches, visited by a small army of Mystery Worshippers on one single Sunday. Read here.