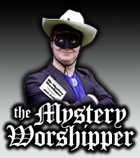 Comment on this report, or find other reports.

Our Mystery Worshippers are volunteers who warm church pews for us around the world. If you'd like to become a Mystery Worshipper, start here.

Find out how to reproduce this report in your church magazine or website.
843: St Mary, Rabanal, Leon, Spain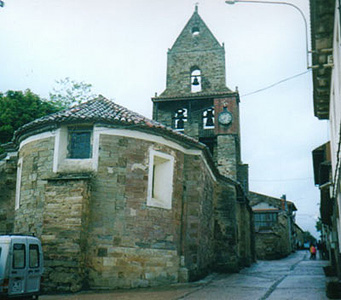 Mystery Worshipper:
Augustine the Aleut.

The church:
Church of St Mary, Rabanal, Leon, Spain.

Denomination:
Roman Catholic.

The building:
This parish church is small and barren of decoration. Built in the 12th century, it is said to be one of the finest examples of Romanesque architecture in the province. There is a tradition of a Templar connection, but no evidence in the church.

The church:
It is now staffed by Benedictine monks, who have a small house across the street and are responsible for the revival of the parish, which had become moribund through the absence of resident clergy.

The neighbourhood:
This is the parish church of Rabanal de Camino, a village of 500 houses. It has had a reputation for hospitality since medieval times, which is well borne out in the wonderful hostel run by English and Irish volunteers on behalf of the Confraternity of St James. The hostel has offered refuge to over 50,000 pilgrims since it was opened in 1991.

The cast:
Two young Benedictine monks, German and Spanish, whose names were not available. I have been given to understand that one was a priest and other a simple monk. Both had found their vocations while on the Camino, and had been assigned there after their monastery took responsibility for the parish.


What was the name of the service?

Vespers.


How full was the building?

The small church was quite full, with about 60 present, all pilgrims as far as I could tell, and no locals. It had been a difficult day, quite wet, and even though the walk from Astorga had only been 20kms, it seemed to have been uphill all the way. I was seated with a polyglot Quebecoise circus costume designer and two German students, one devout and the other having never been in a church before; both products of the former Communist East Germany.


Did anyone welcome you personally?

My co-peregrinos smiled and made room for me in their crowded pew.


Was your pew comfortable?

Not really. One can bear the hard wood benches, but they were too narrow for comfortable seating, and the kneeler was constructed by a carpenter who evidently believed in corporal penance, especially for others.


How would you describe the pre-service atmosphere?

Tranquil, still and dank, with a whiff of beeswax in the air, soon conquered by the unmistakable perfume of wet goretex and hiking boots.


What were the exact opening words of the service?

"En el Nombre del Padre, y del Hijo, y del Espiritu Santo."


What books did the congregation use during the service?

The monks had provided a small booklet with the Spanish and Latin texts which were used for monastic vespers. It seemed remarkably similar to Evening Prayer à la Book of Common Prayer. The service popped back and forth from Latin to Spanish.


What musical instruments were played?

None. The two monks sang vespers with clarity and vigour, remarkably so, as one of them had bronchitis. Some of the Spanish pilgrims joined in for the magnificat and the paternoster, as did one of the Germans; plainchant appeared to be on the gymnasium curriculum in Marxist Germany.


Did anything distract you?

At the end of the service, one of the monks blessed us, and then proceeded to asperge us. While the atheist Thuringian lass had been briefed on how to behave during the service, she was startled by a huge splash of holy water, and broke into irrepressible giggles.


Was the worship stiff-upper-lip, happy clappy, or what?

Well, it was monastic, and it was really a monkocentric service, at which we were welcome to participate.


Exactly how long was the sermon?

There was no sermon.


Which part of the service was like being in heaven?

The steady antiphonal chant of the two monks, defiant and confident. They were reclaiming an abandoned outpost of their order and their faith in a place where the two of them had found their vocations.


And which part was like being in... er... the other place?

Oh it was cold. Oh it was so very cold. Oh it was cold and really damp.


What happened when you hung around after the service looking lost?

We all stumbled out into the drizzle, while the monks sprinted across the street to their house.


How would you describe the after-service coffee?

There was none, and most of the pilgrims headed off to focus on their wet clothes, slowly, slowly drying out in the damp night, while I joined two Swedes, a 70-year old woman and her son, and took a glass of brandy to protect us from the cold.


How would you feel about making this church your regular (where 10 = ecstatic, 0 = terminal)?

10 – partly because vespers is one of my favourite services.


Did the service make you feel glad to be a Christian?

It felt good to be able to participate, however minimally, in this restoration of a living tradition. This was not an antiquarian reconstruction of a lost liturgy.


What one thing will you remember about all this in seven days' time?

The bronchial monk who would not be defeated, and the smell of wet goretex.

More Camino reports



We rely on voluntary donations to stay online. If you're a regular visitor to Ship of Fools, please consider supporting us.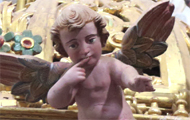 The Mystery Pilgrim

One of our most seasoned reporters makes the Camino pilgrimage to Santiago de Compostela in Spain. Read here.



London churches

Read reports from 70 London churches, visited by a small army of Mystery Worshippers on one single Sunday. Read here.