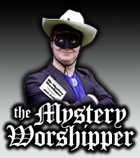 Comment on this report, or find other reports.

Our Mystery Worshippers are volunteers who warm church pews for us around the world. If you'd like to become a Mystery Worshipper, start here.

Find out how to reproduce this report in your church magazine or website.
841: Abbey of Roncesvalles, Roncesvalles, Navarre, Spain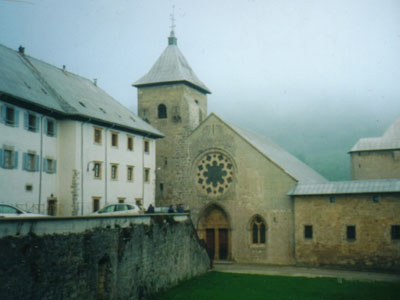 Mystery Worshipper:
Augustine the Aleut.

The church:
Royal Collegiate Church of Augustinian Canons of the Abbey of Roncesvalles, Roncesvalles, Spain.

Denomination:
Roman Catholic.

The building:
Thirteenth-century, built by Sancho VII, King of Navarre, a strong, squat Romanesque edifice, nestled among green forested hills. Approached after 23km of walking over the Pyrenees, it beckons like a damp and cold but welcoming fortress against the twilight. The church shelters a 14th century gilt and painted statue of Our Lady. The tombs of Sancho and Theobald I can be found in the church.

The neighbourhood:
Aside from two small hotels with restaurants and bars, and a few outlying buildings, the Abbey and its hospital stand alone in a small valley. It's been like that for about 1,000 years.

The cast:
No names were provided, but there were five priests, vested in plain white chasubles with green orphreys. The precentor was the spitting image of the de Valera of the 1930s, and the presiding priest looked a lot like the younger Thomas Merton.


What was the name of the service?

Mass, with blessing.


How full was the building?

Fairly full with about 80 congregants. While about a dozen were local and elderly, most of us were pilgrims, tired and as clean as cold showers could get us after 23km and a climb of 2,000 metres. We were a mixture of a dozen nations, the youngest university students, and the oldest in their late 60s. There were two groups of devout Roman Catholic pilgrims, one Brazilian, and the other Italian. I was seated with a posse of non-churchgoing anglophone Canadians, one of whom had not been in a church in her entire life, aside from at weddings,


Did anyone welcome you personally?

No. We staggered in and found our pews.


Was your pew comfortable?

Not really, but we were darned happy not to be carrying backpacks and, by and large, were nursing the beginnings of blisters and other foot ailments.


How would you describe the pre-service atmosphere?

Exhausted, quiet, expectant but not knowing what to expect.


What were the exact opening words of the service?

"En el nombre del Padre, y del Hijo, y del Espiritu Santo."


What books did the congregation use during the service?

No service books were available, nor were there any leaflets. The Roman Catholics, using their diverse languages, followed the Novus Ordo mass from memory, and made their responses in their own languages. The Italians and the French stood during the consecration, the Spanish knelt.


What musical instruments were played?

None, although the de Valera precentor and the other canons chanted several psalms and the gradual with energy and a stark dignity.


Did anything distract you?

It is difficult to adequately describe the state of exhaustion, mental and physical, in which I was. It felt entirely surreal and dreamlike to be standing in an 8th century-old stone church, chilled and exhausted, intimate with fellow-walkers I had known for but a few hours. O... and my feet were in pain, such pain.


Was the worship stiff-upper-lip, happy clappy, or what?

A stark and defiant rendition of the standard Latin-rite Novus Ordo, primarily in Spanish, with a few lines in Latin. While we were not treated as spectators, the action was taking place in the chancel.


Exactly how long was the sermon?

There was no sermon.


Which part of the service was like being in heaven?

At the end of the mass, the celebrant called for the pilgrims to come up to the altar, and as we stood, cold and tired beyond belief, he pronounced a blessing for our journey, in Spanish, then in Italian, then in French, then in English. Still shellshocked by the ascent over the Pyrenees, we received the benediction in silence, somehow strengthened from that moment.


And which part was like being in... er... the other place?

Standing in this cold stone temple, not being able to participate in the Spanish of the mass, only comprehending the words a moment or two after they had passed.


What happened when you hung around after the service looking lost?

We were dismissed definitively by the celebrant, who exited with the other canons. An elderly Spanish woman, dressed to the nines, turned to me and saw that I was a bit lost and came over to shake my hand, put her hand on my arm and said a few words to me... for comfort? for a blessing?


How would you describe the after-service coffee?

There was no time for more than a quick glass of Spanish brandy in a nearby bar before we trotted off to our crowded and dank dormitory, where the doors were unceremoniously and firmly locked at 10.00pm.


How would you feel about making this church your regular (where 10 = ecstatic, 0 = terminal)?

Not applicable, for which I am thankful.


Did the service make you feel glad to be a Christian?

It brought to mind for me a very militant and stark Christianity, defiant and almost despairing in its stand against the Darkness. Imagine the masses which would have been held in the chapels near the Temple of the Evil Sauron in The Lord of the Rings.


What one thing will you remember about all this in seven days' time?

Standing with my puzzled agnostic compatriots who were wondering if all their days on the Camino were to be like this.

More Camino reports



We rely on voluntary donations to stay online. If you're a regular visitor to Ship of Fools, please consider supporting us.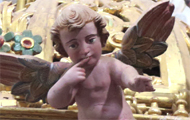 The Mystery Pilgrim

One of our most seasoned reporters makes the Camino pilgrimage to Santiago de Compostela in Spain. Read here.



London churches

Read reports from 70 London churches, visited by a small army of Mystery Worshippers on one single Sunday. Read here.