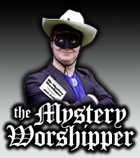 See our archive of reports
Famous/infamous
UK & Ireland
USA
Oz & NZ
Canada
Elsewhere

If you would like to become a Mystery Worshipper, start here.
3316: St Matthew's, San Francisco, California, USA

Read this report | Other comments

June 20, 1028

I was baptized at St Matthew's in 1937. My parents lived 20 miles north of San Francisco and soon joined the newly established Trinity Lutheran (LCMS) in San Rafael.

The only other time I ever was at St Matthew's was a Christmas service in 1948 or 1949, when my father wanted to attend a German language service.

My paternal grandparents and uncles were members of St Matthew's for many years. I believe my Uncle Max was treasurer at St Matthew's at one time.

Mr Bob Oettel



We rely on voluntary donations to stay online. If you're a regular visitor to Ship of Fools, please consider supporting us.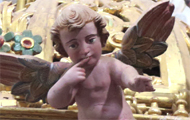 The Mystery Pilgrim

One of our most seasoned reporters makes the Camino pilgrimage to Santiago de Compostela in Spain. Read here.