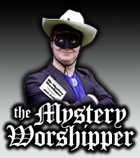 See our archive of reports
Famous/infamous
UK & Ireland
USA
Oz & NZ
Canada
Elsewhere

If you would like to become a Mystery Worshipper, start here.
3309: St Mark the Evangelist, Hood River, Oregon, USA

Read this report | Other comments

June 12, 2018

Portola reports that the gospel was read simultaneously in two other languages.

Wasn't it hard to understand if they were all actually talking over each other (a true Babel!)? How did they handle it?

What were the other two languages?

Mr Carl Chan

Portola replies:

One of the languages was Malay (read by a woman from Indonesia with whom we conversed afterwards); the other language was probably European, but I could not identify it.

There was no confusion of tongues because the English reading was loud and clear; the accompanying readings were read quietly, almost whispered.



We rely on voluntary donations to stay online. If you're a regular visitor to Ship of Fools, please consider supporting us.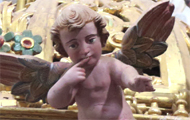 The Mystery Pilgrim

One of our most seasoned reporters makes the Camino pilgrimage to Santiago de Compostela in Spain. Read here.