Mystery Worshipper:
Hungry Hopper.

The church:
Village Church, Burbank, California, USA.

Denomination:
Independent.

The building:
A classic American steepled church, with four square wooden columns holding up a triangular cornice. There is a matching fellowship/office building. The interior sanctuary is smallish, with no space to spare beyond the pews, and is decorated in a very homey way with exterior windows and sills hung inside near the stage area, and one central stained glass window. There was some rather dated fake foliage wrapped all around. Classic pews. Nice feel.

The church:
They seem to be a very nice group, apparently loving, independent. Their ministries for toddlers, children, youth, men and women are described on their website. I'll just mention Practical Parenting, a group that explores (quoting from their website) "way[s] to make parenting more fun and effective" if your "child's behavior [is] giving you headaches" and for those who "feel baffled, unsure of whether or not you are on the right track and what to try next." They have Bible study and Sunday school each Sunday morning, plus the Sunday worship service. They also have a casual, informal Saturday evening service preceded by "Connection Cafe."

The neighborhood:
Burbank is a suburb to the northwest of Los Angeles and Hollywood. Several entertainment companies are headquartered there, including Walt Disney, Warner Brothers, and the cable TV channels Nickelodeon and the Cartoon Network. Burbank is also the site of Lockheed Aircraft's Skunk Works, which designed the U-2 spy plane. Among other missions, the U-2 discovered the presence of Soviet missiles in Cuba in 1962, thus precipitating a crisis that almost brought the world to the brink of nuclear war. Burbank Airport (Bob Hope International Airport) is proving to be a popular alternative for travelers to Los Angeles who don't want to deal with the madhouse that LAX (Los Angeles International Airport) can sometimes be. There is convenient bus and train service from the airport to downtown LA. There is nothing unusual about the area where the church is located – typical Burbank neighborhood, not far from businesses.

The cast:
They didn't introduce anyone, but Wade Mikels, senior pastor, was listed in the bulletin as being the preacher.

The date & time:
Sunday, May 21, 2017, 11.00am.


What was the name of the service?

Sunday Morning Worship.


How full was the building?

The church can seat 300-400 and was almost completely full; a few empty spots here and there.


Did anyone welcome you personally?

Just in passing. I wasn't sure how to get in and came through a back way. I made my way through the crowd to the front, where I asked for a bulletin. The distributor was cordial.


Was your pew comfortable?

Reasonably; the pews were traditional wooden benches with long, thinly-cushioned seat pads.


How would you describe the pre-service atmosphere?

Very social, cordial, familial, talkative. It was evident that the people interact beyond church services.


What were the exact opening words of the service?

The service opened with music, and comments from the pianist were somewhat inaudible, but I did make out "Good morning." When the music was over, a speaker came up and said, "Good morning. You guys are alive!"


What books did the congregation use during the service?

The Holy Bible, New Revised Standard Version, was in the pews, and matched the pastor's scripture readings.


What musical instruments were played?

Piano, digital keyboard, guitars, bass, drums.


Did anything distract you?

The lyrics of the songs. They were rather simplistic, with bad rhymes or near rhymes, with a couple of traditional hymn verses tossed in – perhaps to add some legitimacy? I just kept thinking how nobody would ever remember these songs with tired lyrics that were held up only by the tunes. The worship leaders did, however, display a genuine sense of worship.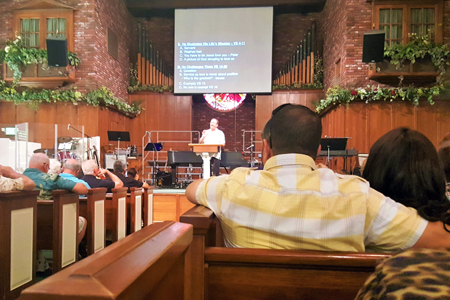 Was the worship stiff-upper-lip, happy clappy, or what?

Contemporary. At the beginning, there was an unusually large group of singers (a choir?) leading the church and they put out a lot of energy and excitement to open the service. Many in the church clapped along but it didn't seem "happy clappy." Many sang along, but later, after the choir group sat down, it seemed to me that there were many who were not singing along. They might have been swaying, or clapping, but not as much singing. But not stiff at all. It was a good dynamic aside from the song choices that obviously were unknown to many, and probably just as distracting to the same. But people were cheery and positive.


Exactly how long was the sermon?

39 minutes.


On a scale of 1-10, how good was the preacher?

7 – The senior pastor was a congenial fellow who knew his people by name and incorporated them into his comments whenever he had a chance. He was not stuck with his nose in a manuscript, and most of his message was like natural speaking to the group. He did kind of overdo his joke about not liking everyone to the point that you started wondering just how many he really didn't like.


In a nutshell, what was the sermon about?

His topic was "Rethinking Jesus – The Final Lesson: Love" but it would perhaps have been better titled "Stooping," as this word was used throughout sermon. His point was that God stooped down to serve our interests in salvation (e.g. Jesus washing feet, dying on the cross, etc.) and that his followers (we) need to stoop more to serve and not think ourselves above anyone.


Which part of the service was like being in heaven?

The opening. There were 35 people on stage: the band and a whole cadre of singers who put super energy into the worship. The whole congregation were up on their feet singing, and the worship leaders were singing right back. The whole opening service was really a selling point, because it was easy to get caught up and feel the spiritual vibe of unity. Everything seemed very wonderful.


And which part was like being in... er... the other place?

Just the song lyrics. I find this generally to be a problem with contemporary songs – not that they are all bad, but that they are chosen, I believe, for a one or two word chorus that impresses everyone, while the rest of the song is all about us and less about the deep things of God. While trying to sing a few of the songs, I wondered if this was because some highschoolers were perhaps doing some of the leading, or if it just hasn't ever been discussed – this idea of having good poetry and sound theology, rather than bad poetry and mediocre theology, coming from the stage.


What happened when you hung around after the service looking lost?

There really wasn't any hanging around. The mass of the congregation just sort of pushed to the front door, where the pastor was shaking hands and sending everyone on their way. As soon as I shook his hand and he smiled and said "Good morning," the next in line was ready to receive the same. So we left almost immediately.


How would you describe the after-service coffee?

None offered.


How would you feel about making this church your regular (where 10 = ecstatic, 0 = terminal)?

8 – I wonder if the midweek small groups are where the power is in this delightful congregation. I think the pastor preached sufficiently. The music was all right but nothing to write home about. On the other hand, the congregation itself has an energy of spiritual connectedness of which we all would desire to be a part.


Did the service make you feel glad to be a Christian?

Yes.


What one thing will you remember about all this in seven days' time?

The full and familial congregation of smiling saints.