Mystery Worshipper:
The Kid from Brooklyn.

The church:
St Raphael's, Long Island City, New York, USA.

Denomination:
Roman Catholic, Diocese of Brooklyn.

The building:
St Raphael's (pronounced "RAY-feels" by locals) is a simple red brick Gothic style church with a modern rectory attached. The exterior features a statue of St Andrew Kim Taegon, patron saint of Korea. Inside one finds a fairly straightforward church with red carpeting, stained glass windows mostly decorated with geometric designs, and a low altar with no rail. In the rear is a choir loft with a large pipe organ built by Reuben Midner and Son of Brooklyn, New York, dating from 1896.

The church:
The parish dates to 1865, with the present structure being opened in 1885. It served for a time as the mortuary chapel for nearby Calvary Cemetery. Nowadays St Raphael's serves a multi-ethnic congregation, with masses celebrated in English, Spanish and Korean.

The neighborhood:
As one leaves New York's borough of Manhattan via the Queens Midtown Tunnel, which passes under the East River, one emerges on the Long Island Expressway in the neighborhood called Long Island City, in the borough of Queens. Ugh! The church sits on a tiny triangular block bordered on one side by the perpetually-overcrowded Long Island Expressway, along with two very congested, noisy avenues. The surrounding area is mostly light industry, along with some working-class houses. Also nearby is Old Calvary Cemetery, the first of several large Catholic burial grounds in the area, which dates to the middle 19th century. Five generations of The Kid's ancestors are interred in this and other nearby cemeteries. If you wish to visit St Raphael's, please don't drive there! It's a nightmare, as is parking. A few blocks farther up Greenpoint Avenue is a lively merchant strip of mostly Latin businesses, including several good restaurants. My favorite is Cafe Rossy, an independent coffee house that puts Starbucks to shame and offers great Ecuadorian hats for sale.

The cast:
The Revd Jerry Jecewiz, pastor. Also present were a lay reader, three eucharistic ministers, and a music leader, none of whose names were given.

The date & time:
Eighth Sunday in Ordinary Time (Saturday vigil), February 25, 2017, 5.00pm.


What was the name of the service?

Mass. Like many parishes in this diocese, St Raphael's offers a Saturday evening service that fulfills a Catholic's obligation to attend mass each Sunday.


How full was the building?

Maybe 20 per cent full.


Did anyone welcome you personally?

No.


Was your pew comfortable?

Plain wooden pew, sans cushion. Comfortable enough.


How would you describe the pre-service atmosphere?

The people were fairly quiet, but every time the doors opened one could hear loud traffic sounds from the aforementioned highway and streets.


What were the exact opening words of the service?

"Good evening."


What books did the congregation use during the service?

A paperback missal/hymnal in both English and Spanish titled Worship Resource. There was also a red hymnal entitled simply Worship. A Spanish hymnal was in the pew but not used.


What musical instruments were played?

Sadly, the aforementioned pipe organ was not utilized. Instead, the music minister had a small electric organ near the altar. There was also an upright piano, but this was not played. No choir was present.


Did anything distract you?

The traffic noise!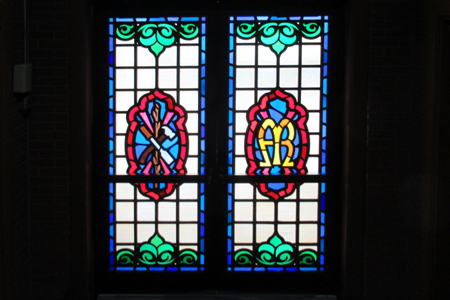 Was the worship stiff-upper-lip, happy clappy, or what?

I'd say it was informally reverent, in the style that one typically finds in working and middle-class Catholic parishes in Brooklyn and Queens. The priest was very informal and friendly, while the music minister's amplified voice (needed, since hardly anyone sang along with the hymns) was rather deep but not very polished.


Exactly how long was the sermon?

13 minutes. I wish it were longer.


On a scale of 1-10, how good was the preacher?

8 – Father Jecewiz was informal, although he did speak a bit too rapidly at times. He struck me as a friendly priest who loves his congregation.


In a nutshell, what was the sermon about?

A reflection on the gospel, in which Jesus tells his followers to not be worried over material matters, since their heavenly Father knows what they need. He spoke about the high level of anxiety in our society, and how traditions ranging from exercises of St Ignatius Loyola to Eastern "mindfulness" mediation can help us deal with it.


Which part of the service was like being in heaven?

The simple, calm atmosphere that prevailed throughout the service. I also reflected on how the five generations of my family buried nearby received strength and comfort from the gospels.


And which part was like being in... er... the other place?

That confounded racket from the cars and trucks outside! Also, the Creed was recited at such a feverish clip that I couldn't even keep up with it, much less think about what I was saying.


What happened when you hung around after the service looking lost?

Nothing. Most folks shook hands with the priest, then just left.


How would you describe the after-service coffee?

Nothing served. Then again, I've not encountered a coffee hour at any church in this diocese.


How would you feel about making this church your regular (where 10 = ecstatic, 0 = terminal)?

3 – I'd like a more dynamic congregation with better music and more bodies in the pews.


Did the service make you feel glad to be a Christian?

Absolutely.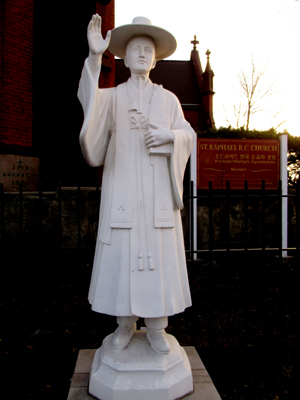 What one thing will you remember about all this in seven days' time?

Hearing parallels between the spiritual exercises of St Ignatius and Eastern meditation.