Mystery Worshipper:
Ken T. Poste.

The church:
King's Church, Catford, London.

Denomination:
Newfrontiers. The church is also a member of the Baptist Union of Great Britain.

The building:
From the street front, it looks like a fairly traditional church building, albeit with some modern banners on the front. The entrance is slightly off to one side. You go down a side alley, whereupon you walk into a rear extension that is far more modern than the view from the street would lead you to believe. The hall is laid out in a sideways style, with very few rows, but each row is very wide, broken up into blocks (the opposite of a nave in a cathedral). The stage was lit from multiple angles with a general theme of purple, though the presence of a glitterball detracted from the view that the colour scheme was intentionally liturgical.

The church:
They have undergone a lot of growth in recent years, expanding from the original site in Catford to two more sites in southeast London: Lee and Downham. To accommodate the growing numbers, they have two morning services and one evening, and I was told that between them, about 700-800 come weekly. The church regularly runs Alpha courses and has a number of small groups ranging in interest, including the spiritual (Bible study, prayer) and the non-spiritual (knitting, cycling). They also run a social outreach programme called the Jericho Road Project, which seeks to alleviate poverty in the borough of Lewisham, working particularly with the homeless.

The neighbourhood:
Catford is about as nondescript an area of south London as one could ever find. Grey and bland, the most interesting thing about it is that it has two train stations that are next door to one another, but which serve different lines and are run by different train companies. The area has been the home of the likes of heavyweight boxer Sir Henry Cooper, author Andy McNab, comedian Ben Elton, and rock musician Cat Stevens.

The cast:
The initial introduction was given by Neil Glanville, one of the pastors. Most of the service was led by Steve Tibbert, the senior pastor. There were a number of readings given, but no other names were given.

The date & time:
Sunday, 18 December 2016, 11.30am.


What was the name of the service?

Carols at King's.


How full was the building?

It was bursting at the seams. There was hardly a spare seat in the house, which meant that there were about 300 people present.


Did anyone welcome you personally?

Barely. I was handed a leaflet as I came in and given a cursory "Hello" but for the most part I was left to my own devices.


Was your pew comfortable?

We had well cushioned seats that were a joy to be seated upon.


How would you describe the pre-service atmosphere?

It was quite noisy. The congregation from the earlier 9.30 service were leaving and lots of conversations were going on, while music was piped into the church. Some of it was modern takes on traditional carols, some of it was quite jazzy. But people had to speak over the top of the music.


What were the exact opening words of the service?

"OK. Well, a very good morning to you. Welcome to King's."


What books did the congregation use during the service?

There was a rough order of service on the leaflet we were given, though it wasn't adhered to particularly well. The inside also had lyrics to the songs, but these were projected onto the screen as well.


What musical instruments were played?

Two keyboards, acoustic guitar, electric guitar, and a drum set being played inside a perspex box. At one point an organ could be heard, but neither of the keyboards was being played. I suspect the organ sound was coming from a recording rather than being the product of a hitherto unseen instrument.


Did anything distract you?

During the rendition of "O Little Town of Bethlehem" a notice appeared on screen giving two car registrations with a request that their owners move the cars as soon as possible. The video showing someone reading John 1 was accompanied by someone doing interpretive dance, which may have been intended to add to the reading, but instead rather detracted from it.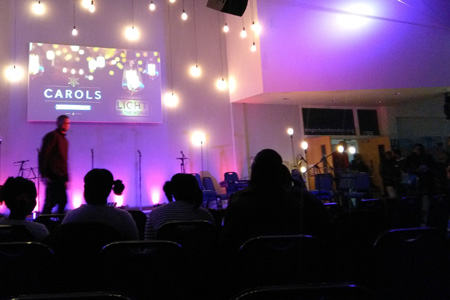 Was the worship stiff-upper-lip, happy clappy, or what?

This was fairly middle of the road evangelicalism, with a bit of extra pizzazz thrown in for Christmas. They picked some traditional carols and did them in a modern style. The service began with a short sketch that introduced the theme of Light of the World. It had (I think) a number of in-jokes that were a little lost on me and managed to incorporate the notices. It was amusing and well-rehearsed, even though it is unlikely to win an Olivier Award. We then alternated between carols, readings and showing some highly polished video shorts on the screen.


Exactly how long was the sermon?

11 minutes.


On a scale of 1-10, how good was the preacher?

3 – Steve gave the impression of someone who had been given a sermon title and didn't know what to do with it. He waffled a fair bit and struggled to make his point.


In a nutshell, what was the sermon about?

It was on Light of the World, the theme of the whole carol service. The message of light is a free offer; you can't earn it or buy it. All we have to do is accept it.


Which part of the service was like being in heaven?

There was a performance song that was done by one of the young ladies. It was done in a very pop style but was every bit as competent as what one hears on the televised talent competition The X Factor. Not bad at all.


And which part was like being in... er... the other place?

In spite of "light" being the theme, only the stage was well lit, with most of the congregation spending the whole service in darkness. When one is indoors and natural daylight is short, it didnít feel like being in a very light-filled atmosphere. Also, during "In Christ Alone" the person behind me suddenly found their voice; unfortunately, their volume was inversely proportional to their tunefulness.


What happened when you hung around after the service looking lost?

I went to grab a coffee, where the queuing system was rather anarchic. It was a miracle that I didn't witness any spillages given how people were bumping and jostling one another. I stood by a pillar and it took quite a long time before anyone spoke to me. But I then had a couple of amiable chats.


How would you describe the after-service coffee?

It was instant, but pretty good. There were mince pies on offer as well as some biscuits, though for some reason they were being lit by a red light, which meant it was hard to tell what was what.


How would you feel about making this church your regular (where 10 = ecstatic, 0 = terminal)?

7 – I wasn't made to feel particularly welcome. Not unwelcome, but it was more a case of indifference. I would hope that the regular sermons are less vapid.


Did the service make you feel glad to be a Christian?

Again, I would use the term indifferent.


What one thing will you remember about all this in seven days' time?

Hearing a waffling message about light, whilst sat in darkness.