Mystery Worshipper:
Paterfamilias.

The church:
Cathedral of Christ the King, Lexington, Kentucky, USA.

Denomination:
Roman Catholic, Diocese of Lexington.

The building:
Dating from 1965, it is the work of Edward Schulte, a Cincinnati architect who was quite prolific, designing over 80 churches (including several cathedrals), often in a modern style. Cruciform in shape, it has a large, prominent altar, surrounded by seating on three sides; over the altar is a large crucifix and a tower bathing the sanctuary area in natural light. There are beautiful stained-glassed windows designed by Gabriel Loire of Chartres, France. A stained glass of Christ with orb and scepter was designed by a nun, Sister Mary Ernestine Ott, CDP (Sisters of Divine Providence). There is a St Kevin Adoration Chapel, where there is 24-hour eucharistic adoration. An "Honoring Our Past, Building Our Future" campaign was begun in 2010, enabling a new baptistery and rectory to be added.

The church:
Christ the King was formed as a parish in 1945 and became the cathedral of the newly-formed Diocese of Lexington in 1988. There are the usual social, social justice, and Christian formation activities, as well as small discipleship communities (with on-line materials to assist in training for leadership in these communities). There is a recital series, relying heavily on ensembles from local colleges and universities, and several choirs. They sponsor an elementary school. There are three weekend masses plus the Saturday vigil mass, and a morning and early evening
mass plus the Rosary on weekdays.

The neighborhood:
Lexington is in the central part of the Commonwealth of Kentucky, and is the Commonwealth's second largest city. It is the home of the University of Kentucky, the thoroughbred horse industry, and the elegant Keeneland race track. The church is located in the southeast Lexington Chevy Chase residential neighborhood, with largely upper-middle class homes. There is an Anglican church (ACNA) directly across the street. The home of John Calipari, coach of the University of Kentucky basketball team and perhaps the Commonwealth's most famous citizen, is only a few blocks away.

The cast:
There was no service leaflet, but from their web page I recognized The Revd Paul Prabell, rector, as celebrant. There was a deacon (vested in dalmatic), organist/pianist, and cantor.

The date & time:
Fifth Sunday in Ordinary Time, February 7, 2016, 11.15am.


What was the name of the service?

Mass.


How full was the building?

It seats around 1000 and was at least 90 per cent full. The congregation were both racially and generationally diverse; lots of families with children.


Did anyone welcome you personally?

No, but I did arrive early.


Was your pew comfortable?

Quite.


How would you describe the pre-service atmosphere?

A quiet murmur.


What were the exact opening words of the service?

"Good morning, and welcome to Christ the King," followed by announcements. I was a little taken aback that this greeting began before the organist had finished his prelude.


What books did the congregation use during the service?

Journeysongs, a hymnal published by Oregon Catholic Press, also containing the order of mass, and the lectionary for Sundays, solemnities, and the Triduum.


What musical instruments were played?

A three manual forty-three rank pipe organ designed by Randall Dyer Associates of Jefferson City, Tennessee, installed in 2012, and a baby grand piano.


Did anything distract you?

Worshippers continued to enter well after the service had begun.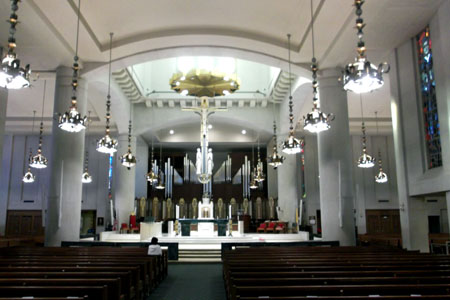 Was the worship stiff-upper-lip, happy clappy, or what?

This was a pretty standard Sunday morning mass. The entrance rite was supplanted by the reception of two adults seeking full communion with the Catholic Church; they will be received into the Church at the Easter Vigil. The candidates' sponsors marked the candidates with a seven-fold Sign of the Cross (forehead, ears, eyes, mouth, shoulder, heart, and feet). The Lord's Prayer was chanted.


Exactly how long was the sermon?

10 minutes.


On a scale of 1-10, how good was the preacher?

8 – This would have been a 10 had the rector preached on the lessons for this Sunday. He is, however, a very effective public speaker.


In a nutshell, what was the sermon about?

Father Prabell reminded his congregation that Lent would be beginning on Wednesday. Some of us will be undertaking a particular discipline by abstaining from sweets or alcohol, others will undertake spiritual practices, such as more frequent mass attendance. Lent is also a time to look for signs of God's love and forgiveness.


Which part of the service was like being in heaven?

The beauty of this space. I have long admired Schulte's designs and seek them out when I am traveling. I could have sat in this church all afternoon had my schedule permitted.


And which part was like being in... er... the other place?

With no service leaflet, a visitor such as myself had no way of knowing to what music the people's parts of the mass were being sung. Looking around, I gather I was not the only one. A congregation who can sing the Lord's Prayer as well as this one did could also sing the Sanctus or Agnus Dei if given a bit of help.


What happened when you hung around after the service looking lost?

Nothing; I approached Father Prabell with a couple of questions about the church, which he graciously answered.


How would you describe the after-service coffee?

On offer were gourmet coffee and a variety of juices in styrofoam cups, and a large variety of doughnuts.


How would you feel about making this church your regular (where 10 = ecstatic, 0 = terminal)?

7 – There's quite a bit of activity in this parish. My personal reservation is not being able to sing the people's parts of the mass. They could find room in their colorful, attractively-designed 20 page bulletin to include music for these parts of the liturgy.


Did the service make you feel glad to be a Christian?

Yes.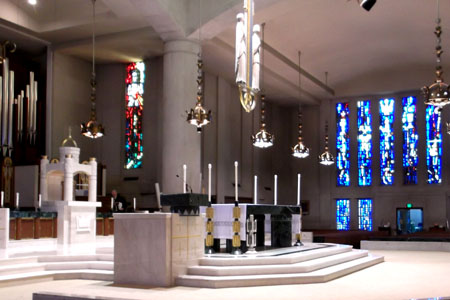 What one thing will you remember about all this in seven days' time?

The sheer beauty of this space.