Mystery Worshipper:
Sipech.

The church:
Christ Church, East Dulwich, London.

Denomination:
Combined Methodist, London District; and United Reformed Church, Southern Synod.

The building:
At first glance, it appears to be quite a traditional church building with a spire. However, as one gets closer, one realises that what was once the main church building is no longer used as such – it has been converted into domestic flats. So the church meets in the adjacent hall, called the Bread of Life Centre. The room was laid out cafe style with a few tables scattered around, with four or five chairs around each. The building is also used by a Pentecostal church on Sunday afternoons, some of the members of which were coming in just as the members of Christ Church were leaving.

The church:
As has happened in quite a few locations, including its sister church in nearby Herne Hill, the local Methodist Church and URC merged several years ago. The church has a very strong fair trade ethos and runs a daily cafe as its main form of outreach to the local community. At the time of my visit, the church was without a minister.

The neighbourhood:
East Dulwich is something of an inner city village. In spite of its proximity to central London, it retains many features that wouldn't be out of place in a more rural setting. These include a small library, a well-maintained park, traditional butchers, and a fishmonger. The high street is far less homogenized than many one may find in towns across Britain. Just over the road is a blue plaque marking the birthplace of Enid Blyton, author of many best-selling but somewhat controversial children's books. A fair few of the local buildings have some interesting murals on them; the one just over the road from the church building has a giant fly on it, dressed up with a cup of tea in each hand.

The cast:
The service was led by a guest minister, Mrs Melissa Quinn. I couldn't help but notice her rather large boots, which might be called biker/rocker/goth.

The date & time:
Pentecost Sunday, 24 May 2015, 11.00am.


What was the name of the service?

They called it AAW. Their website states that the 11.00 service on the last Sunday of each month is All Age Worship, which is what I assume the abbreviation meant.


How full was the building?

I counted 33 people present. Given the layout, the room appeared fairly filled out, although in a conventional setting it may have seemed rather sparse.


Did anyone welcome you personally?

Yes. There was a warm hello from someone standing outside the door (on a very nice day). Shortly after I entered, I was given a song book and a notice sheet. A few people came over to say hello.


Was your pew comfortable?

We had very comfortable padded chairs, which seemed fairly new. They had a small hole cut in the wood to hold the individual communion cups.


How would you describe the pre-service atmosphere?

With not very many people around, it was fairly quiet, though bubbling with friendly greetings among the church regulars.


What were the exact opening words of the service?

"Good morning and welcome to Christ Church."


What books did the congregation use during the service?

We sang from Mission Praise and read from The Holy Bible, New Revised Standard Version.


What musical instruments were played?

There was an organ that was played for two songs. The other songs were played on an electronic keyboard that had a built-in drum synthesiser. There was only the one chap who played, so we only had one instrument per song.


Did anything distract you?

I tried to take a seat near the back so that I could observe and take notes throughout the service, but the overwhelming friendliness of the church regulars meant that I was firmly invited to sit at a table with others. So there I was, trying to take notes a great deal more surreptitiously than I normally do.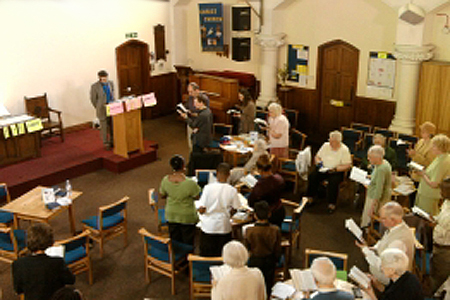 Was the worship stiff-upper-lip, happy clappy, or what?

Going by the song choices (including "Shine Jesus Shine"), it should have been happy clappy. Yet the way it was done was distinctly lacking in verve and collective confidence in the sung worship. Overall, it was comfortably non-liturgical low church.


Exactly how long was the sermon?

There wasn't a set sermon as such. It was interspersed with interactive activities and prayers, and one would have needed a stop watch to time it accurately.


On a scale of 1-10, how good was the preacher?

7 – The teaching was engaging and well presented.


In a nutshell, what was the sermon about?

As it was Pentecost Sunday, the subject was the Holy Spirit. The gist was that the Holy Spirit allows us to do things we wouldn't normally be able to do. We were encouraged to write down prayers for what we would like the Holy Spirit's help with; these were stuck to a large sheet of paper and some were read out.


Which part of the service was like being in heaven?

There was an interactive part of the service where each table was given the same phrase in 14 different languages. Working with those on our tables, we had to work out what the languages were and what the phrase was (it was "Come, Holy Spirit"). French, Greek and Russian were easy to spot; Icelandic, Welsh and Hindi were not. But it was good fun working them out together.


And which part was like being in... er... the other place?

The singing. There was no one here with the confidence to lead, so there was a collective mumbling. We were out of time with one another and it was quite painful to be part of.


What happened when you hung around after the service looking lost?

I was swiftly invited for a coffee, which I duly partook of. I had to keep moving out of people's way, as the hall was being reorganised for the next church who were coming in. I felt a bit guilty at standing on the side with a cup and saucer in hand while some of the more elderly members of the congregation were pushing chairs around, but they seemed quite happy to do so.


How would you describe the after-service coffee?

Quite reasonable. It was instant, fair trade, and not scaldingly hot. There was also a fair selection of cakes and biscuits on offer.


How would you feel about making this church your regular (where 10 = ecstatic, 0 = terminal)?

6 – It didn't quite click with me. This was partly because of the uncertainty over the current interregnum. But I would definitely recommend it for a nonconformist new to the area.


Did the service make you feel glad to be a Christian?

Yes.


What one thing will you remember about all this in seven days' time?

The most lukewarm rendition of "Shine Jesus Shine" I've ever heard!