Mystery Worshipper:
Amanda B. Reckondwythe.

The church:
Love Life Church, Phoenix, Arizona, USA.

Denomination:
Independent charismatic.

The building:
A plain modern concrete structure. In the driveway were two signs warning against trespassing and indicating that the police would be called to deal with trespassers. Even so, I decided to risk arrest and enter. Inside is a large room with charcoal colored walls, charcoal and brown carpeting, a large stage and theater-style lighting.

The church:
They take children seriously here, with ministries aimed at all age groups. Each has a catchy name and slogan, e.g. the ministry for 4-5 year olds is called "G-Force: Training God's Little Army." The adult men's and women's ministries are less imaginatively described. There are three services each Sunday (one in Spanish), and a Wednesday evening service at which communion is offered once each month.

The neighborhood:
Love Life Church is located on Camelback Road near 83rd Avenue, in the area of Phoenix's West Side known as Maryvale. This is a predominantly working class district with a mainly Hispanic population. Historically, Maryvale has been plagued by crime and gang activity, although aggressive policing has reduced the threat in recent years.

The cast:
The Revd Dan McCluskey, pastor.

The date & time:
New Year's Eve, Tuesday, December 31, 2013, 6.00pm.


What was the name of the service?

New Year's Eve Service.


How full was the building?

I counted room for 350 and it was pretty much full. Most people arrived late, though, toward the end of the praise music portion. It was a young adult crowd, some families, quite a few teenagers.


Did anyone welcome you personally?

Two girls held the doors open and said "Happy New Year" as we passed. Inside, people in the lobby said hello. As I entered the auditorium, a man shook my hand and asked, "How's it going, Bud?" Others shook my hand and said hello also.


Was your pew comfortable?

Chairs – quite comfortable.


How would you describe the pre-service atmosphere?

Lots of visiting, hugging and kissing.


What were the exact opening words of the service?

"Welcome to Love Life Church."


What books did the congregation use during the service?

None.


What musical instruments were played?

Keyboard and two guitars, plus three vocalists: one man and two women, one of whom was very pregnant! (The music was quite loud; I hope the poor baby isn't born deaf!) I also heard drums, and indeed there was a drum set on the stage, but no drummer was seated at it. Either the drums were on a sound track or the keyboardist was producing the sound.


Did anything distract you?

Latecomers were a distraction. Also, during the sermon, people got up to go out (presumably to the restroom) and then came back in.


Was the worship stiff-upper-lip, happy clappy, or what?

Very happy clappy – lots of raised arms, clapping, whooping and hollering, applause. The praise music was the hard Christian rock variety and lasted for about 30 minutes. Then the pastor made some remarks about the final song, which was a loose version of Psalm 47 ("O clap your hands, all you people"), and asked the musicians to play it again.


Exactly how long was the sermon?

I don't know – I left after an hour of it, and he was showing no signs of concluding.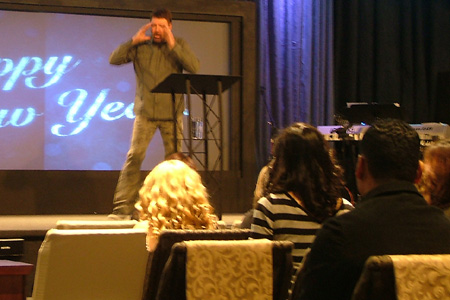 On a scale of 1-10, how good was the preacher?

3 – This one is hard to grade. Pastor Dan spoke in a very relaxed, informal style, pacing back and forth, waving his arms, and jumping up and down. He kept saying things like "Do you understand?" "You hear what I'm saying?" "You get this?" "Say Amen." But also things like "The Holy Spirit just now told me to say this" and "Oh, the Lord just said something to me." He seemed to ramble on and on. As indicated, I left after an hour.


In a nutshell, what was the sermon about?

His text, among others, was Isaiah 63:7 ("I will recount the gracious deeds of the Lord"), although he read it as "I will make a list of the good things God has done" – I don't know what version of the Bible he was quoting from. God has given us a good life. Oh, there are issues, but they can all be overcome. Have a relationship with God. We are all part of the Body of Christ, and all parts are needed. Don't settle for second best. We have plenty to thank God for – just imagine what other good things he has in store for us in 2014. God is good – so good! (At this point I left, but he was still going on and on.)


Which part of the service was like being in heaven?

The congregation – well, most of them – seemed to dote on Pastor Dan's every word. They whooped and hollered and applauded and said "Amen!" and "Yes!" and "God is so good!" and "Ah!" at every opportunity. I'll give them that, but he lost my attention after 30 minutes.


And which part was like being in... er... the other place?

They seemed to make a very big deal out of receiving the offering. An unnamed gentleman got up and said things like "Give bountifully, reap bountifully" and "God will take care of us if we take care of him" and "God has been so good to us, why would anyone not want to give him back his due?" Even so, it seemed to me that when the buckets were passed, most people let them go by without dropping in any money that I could see.


What happened when you hung around after the service looking lost?

I don't know – I left during the sermon, as I said.


How would you describe the after-service coffee?

I don't know.


How would you feel about making this church your regular (where 10 = ecstatic, 0 = terminal)?

0 – I know that life in heaven will be life everlasting, but I do not believe that it will consist of a Pastor Dan sermon everlasting. I can easily sit through sermons of an hour or more if they are well prepared and well delivered – the sermons of TV preacher Dr Charles Stanley are a fine example – but Pastor Dan is no Charles Stanley!


Did the service make you feel glad to be a Christian?

No.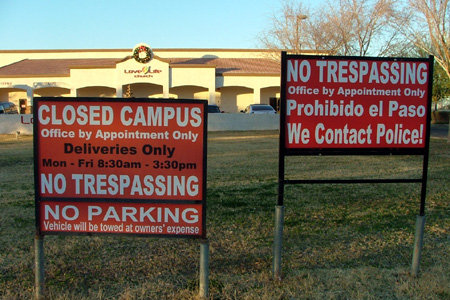 What one thing will you remember about all this in seven days' time?

"No trespassing. We contact police!"