Mystery Worshipper:
Aileen.

The church:
St Mary on Paddingon Green, London.

Denomination:
Church of England, Diocese of London.

he building:
A beautiful church, built in the 1700s, the work of the late 18th century English-Canadian architect John Plaw and one of only two of his structures still standing in the UK. Of yellow brick, the colour yellow predominates both inside and out. It has lots of trees and grass around it, with many buried there.

The church:
Together with St Saviour, Warwick Avenue, they make up the parish of Little Venice. Their website states that St Mary's is very popular with young families, and there were certainly plenty of friendly men, women and children in attendance. On their feast of title they put on an annual parish barbeque at the vicarage, which is always well attended.

The neighbourhood:
Little Venice, just north of Paddington, is so called because of the junction of the Grand Union and Regent's Canals. It's a popular area that hosts a number of waterside cafes, pubs and eateries. There is a university very close, and a primary school, and a police station just along from the church. There are also many lovely areas with trees and flowers and things for children to play in.

The cast:
The Revd Gary Bradley, vicar, plus deacon and subdeacon who were not named.

The date & time:
First Sunday of Advent, 1 December 2013, 9.30am.


What was the name of the service?

Solemn Mass and Homily.


How full was the building?

About 50 in the congregation, plus clergy, choir and musicians.


Did anyone welcome you personally?

I was welcomed by a man who smiled and spoke to me. He also gave me the paper that tells us about the history of this church. After mass, my hand was again shaken, and I was invited to go across to get tea and coffee. Adults and children spoke nicely to me.


Was your pew comfortable?

The pews were very comfortable, and were yellow with soft red cushions and kneelers. They had wooden doors at the end to close them.


How would you describe the pre-service atmosphere?

Many people were talking. The organ was playing – very lovely.


What were the exact opening words of the service?

"In the name of the Father, and of the Son, and of the Holy Spirit. Amen."


What books did the congregation use during the service?

We were given a pink paper with the hymns and the Bible readings in it, and all the words spoken by the readers and the clergy and the singers.


What musical instruments were played?

There was just an organ, played very well, right up above and behind us. There was also a piano downstairs but it was not used today.


Did anything distract you?

I really wondered about Jesus being "light" and the candles in this church being about the light of the world. I liked them and worried about them and also thought about them a lot.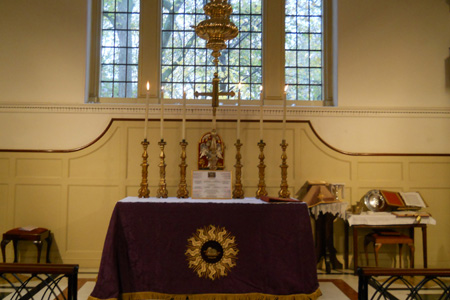 Was the worship stiff-upper-lip, happy clappy, or what?

From their website: "The liturgy on Sundays is a traditional High Mass with three sacred ministers and fine music provided by a voluntary choir." And that's what we got, asperges and all! No clapping. The music was very well sung.


Exactly how long was the sermon?

15 minutes.


On a scale of 1-10, how good was the preacher?

9 – Father Bradley spoke very well and looked resplendent in his fine vestments.


In a nutshell, what was the sermon about?

What would Christmas be without candles? The candle is a symbol of Jesus Christ, the Light of God, and the gospel. Christ came to earth and took our nature upon himself. He gave his life for us all. His death was a time of darkness, but now there is the light of Christ in the world. He brings hope to us all. Advent brings us the opportunity to live and find Jesus again. Jesus shines and saves us, and loves us. With him we can free ourselves from darkness.


Which part of the service was like being in heaven?

I felt like belonging to Jesus and being with him in heaven!


And which part was like being in... er... the other place?

I am not accustomed to the asperges. To me it's like ordained people walking around shooting some water on us all!


What happened when you hung around after the service looking lost?

Several people near me told me to come and have tea or coffee. They chatted to me a lot!


How would you describe the after-service coffee?

We had tea and coffee and sweet cakes to eat. It was really nice. Lots of people again chatted to me. The vicar also chatted to me and shook my hand.


How would you feel about making this church your regular (where 10 = ecstatic, 0 = terminal)?

9 – If I lived near this church, I would enjoy being a member of it. It is a really beautiful church and very lovely friendly people too! Also excellent music.


Did the service make you feel glad to be a Christian?

I was glad to be a Christian and also felt especially united to him through the eucharist.


What one thing will you remember about all this in seven days' time?

How Jesus and God the Father and the Holy Spirit love and care for us.