Mystery Worshipper:
Old Rackensack.

The church:
Grace Walk, Phoenix, Arizona, USA.

Denomination:
Independent.

he building:
A plain, flat, modern stone building. One enters a lobby where a snack bar and information desk are located. The auditorium is triangular, with brown walls and carpeting. A stage with red carpeting sits at the apex of the triangle. Rows of benches are angled in toward the center aisle.

The church:
Their mission statement (quoting from their website) says that they believe in a "positive and energetic" approach to church that "will equip you to apply the truths of the Bible to your life." To that end, they "want to minister to the spiritual, physical, mental and emotional needs of people." They have all the usual youth groups and adult ministries commonly found in charismatic churches of this type, including "Life Groups" of three or so people who meet in private homes during the week. There are two campuses: one in southwest Phoenix and the other in Avondale, a suburb of Phoenix.

The neighborhood:
Their southwest Phoenix campus is located on the wonderfully named Lower Buckeye Road near 78th Avenue. It is a residential area, with middle-class family homes behind cement walls.

The cast:
Judging from his photo on their website (although he looks considerably younger there), I believe Joe Calloway, senior pastor, led the service, dressed in a checkered shirt and very faded jeans. He did not introduce himself.

The date & time:
Saturday, September 14, 2013, 5.00pm.


What was the name of the service?

SOS (Sunday on Saturday).


How full was the building?

The auditorium can seat about 200. There were about six people there right up until service time. As the band began singing, people started coming in all at once until about 25 were present. After that, people trickled in right up until about the middle of the sermon, for a grand total of about 50. Mostly young single adults, mostly women. Some children, some young men, one or two older couples.


Did anyone welcome you personally?

Their website states: "We work hard to create a friendly, casual, comfortable atmosphere. We won't ask you to wear a visitor badge, stand up, or stand out in any way." Even so, as I entered the lobby, a girl behind the snack bar said, "Hello. How are you tonight? Would you like a cold beverage?" I asked for a bottle of water, and she added, "Would you like a freshly baked blueberry turnover to go with that?" I answered yes and paid for the food. Then a girl behind the information desk said, "Hello, Iím Belinda. Have you been here before?" Belinda proceeded to question me about where I was from and how I had heard about the church. Several minutes after I had settled down inside, a young man introduced himself as Jeff (again judging from the website, he was Jeff Jayne, pastor for junior high and outreach) and said that he couldnít help noticing that I was taking notes and snapping photos, and he wondered if I was a minister from another church. During the praise music, another man (who turned out to be Pastor Joe) shook my hand and said, "Hello. How are you tonight?"


Was your pew comfortable?

The pews were long rows of upholstered benches that could seat five or so, placed end to end. They were comfortable to sit on, but they were angled in toward the center in such a way that one had to sit sideways to see the stage.


How would you describe the pre-service atmosphere?

The praise band practiced a bit, followed by rock music piped in over the PA system. As mentioned, only about six people were present.


What were the exact opening words of the service?

After about 20 minutes of praise music, Pastor Joe said, "Amen. You can be seated."


What books did the congregation use during the service?

None. Everything was projected. Jeff had given me a scare, though. As he was speaking with me before the service, he said that they were very much into smartphones at this church, and that if I had one I could follow along on it. He said that itís very rare to see a Bible here anymore. I thought, "Good Lord, has it come to this?" Fortunately I saw no one using a smartphone during the service.


What musical instruments were played?

Keyboard, two guitars, drums, five vocalists. The music was all of the hard Christian rock variety and was played very loud.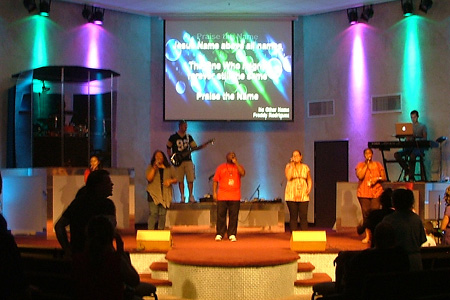 Did anything distract you?

The large number of people who came in late was a distraction. Also, it seemed to me that many in the congregation were Ė how shall I say Ė more than amply endowed around the backside.


Was the worship stiff-upper-lip, happy clappy, or what?

Typical happy-clappy characteristic of this type of church. People waved their arms, clapped, and applauded during the music, but no one seemed to be singing. The music was followed by a sermon, one or two announcements, and a closing prayer.


Exactly how long was the sermon?

38 minutes.


On a scale of 1-10, how good was the preacher?

1 for style, 8 for content. I thought Pastor Joe rambled on in almost a stream-of-consciousness style, although the points he made (when he finally got around to doing so) were well drawn.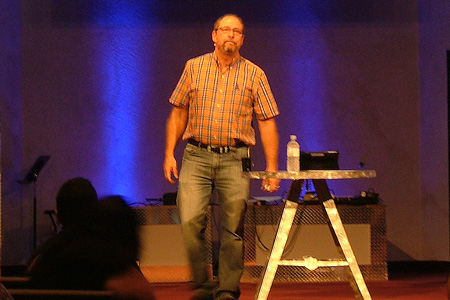 In a nutshell, what was the sermon about?

Pastor Joe spoke on Paulís "second missionary journey of faith" (Acts 16). Paul faced many hardships and went off in many wrong directions during his journey, and when he finally started to do some good he was jailed and beaten. But he persevered in prayer and praise, and was eventually freed by "an act of God" (an earthquake). From this we can learn three things: (1) Everybody experiences dry times; (2) That doesnít mean that God has forgotten us; (3) We mustnít be fair-weather Christians. Weíll make it to the end if we persevere. Donít question God Ė praise him!


Which part of the service was like being in heaven?

I liked the points that Pastor Joe was making about prayer and perseverance.


And which part was like being in... er... the other place?

The hustle and bustle of people coming in late! Two very large ladies made a grand entrance right at the start of the sermon and settled down opposite me. They whispered, munched on cookies, swigged Coca-Cola, and fanned themselves throughout. I was tempted to change my seat.


What happened when you hung around after the service looking lost?

After the final prayer, Pastor Joe wished us a good week and everyone sort of left. There was a little visiting, but not much.


How would you describe the after-service coffee?

None. The pre-service blueberry turnover was delicious, though!


How would you feel about making this church your regular (where 10 = ecstatic, 0 = terminal)?

1 – I saw nothing here that differed from any other church of this type. Rock-concert-as-church is not my style.


Did the service make you feel glad to be a Christian?

It really did very little for me, although I did begin to appreciate the message of the sermon.


What one thing will you remember about all this in seven days' time?

I will keep wondering what there is about this church that appears to attract so many fat people to it.