Mystery Worshipper:
Amanda B. Reckondwythe.

The church:
Living Faith Fellowship, Phoenix, Arizona, USA.

Denomination:
Independent, in the Full Gospel or Pentecostal tradition. According to their website, they are "submitted to the spiritual leadership and direction" of the Word of Life Christian Center of Las Vegas, Nevada, and the Mark Hankins Ministries of Alexandria, Louisiana.

The building:
A storefront suite located in a commercial park. One enters a vestibule off which open some office-style rooms and the worship space. The worship space itself is small and triangular shaped, with light brown walls, grey carpeting, and an exposed ceiling. There is a small stage holding a lectern, some chairs, and musical instruments.

The church:
Living Faith Fellowship was founded in 2002 by Pastors Lew and Mary Spear under the name House of Destiny. They sponsor groups for men, women, children and youth, all of which appear to be geared toward teaching people to take their faith seriously.

The neighborhood:
They are located at 19th Avenue and Pinnacle Peak Road near the northernmost reaches of the Phoenix city limits, in the area known as Deer Valley. It is primarily industrial in character, with a great deal of undeveloped land.

The cast:
Pastors Lew and Mary Spear.

The date & time:
Sunday, May 19, 2013, 10.00am.


What was the name of the service?

Sunday Service.


How full was the building?

I counted about 125 chairs. The pre-service warm-up was attended by about 12 people, and the service itself had 35 in all – mostly young adults, some children, a few older people.


Did anyone welcome you personally?

Almost everyone said hello, shook my hand, and introduced themselves.


Was your pew comfortable?

Cushioned metal chairs – a little on the hard side.


How would you describe the pre-service atmosphere?

Lots of hand-shaking and conversing. About a half hour before start time, Pastor Mary conducted a warm-up session where she would say short phrases that the congregation would repeat, such as "I am…", "God says I am…", "God is in my heart…", etc. This segued into a stream of consciousness narrative that gradually increased in volume and intensity. Speaking in tongues was prominent. Pastor Mary compared speaking in tongues to toilet paper – once it starts unrolling, she said, it just keeps coming! She concluded by saying, "O God, make a difference in this world through me, hallelujah!"


What were the exact opening words of the service?

They were spoken loudly into a microphone and so came out distorted; I didn't catch them. But the opening words to the first song were, "Our God is a mighty God."


What books did the congregation use during the service?

None. Words to the songs, and verses from scripture, were projected onto a screen.


What musical instruments were played?

Electronic keyboard and drums, with help from a pre-recorded sound track.


Did anything distract you?

Lots of people were taking notes, so I didn't feel too conspicuous. A lady in front of me was taking notes on a laptop computer. A young man was wearing a t-shirt that said "Deus vult" (Latin for "God wills it") on the back. I wondered if he was aware of the reference to Pope Urban II and the Crusades.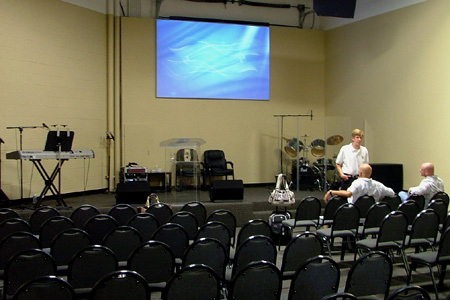 Was the worship stiff-upper-lip, happy clappy, or what?

Very happy clappy, very intense and serious, very loud! It followed the standard evangelical format: praise music, meet and greet, announcements, sermon based on scripture, concluding prayer. The songs went on for about 40 minutes, and were the standard hard Christian rock variety, very repetitive. People clapped, swayed, and waved their arms about. During the last song, which was pretty much in tongues, Pastor Lew began a stream of consciousness narrative to the effect that we worship willingly, as Christ went willingly to the Cross, and that worship brings us into God's presence. "How can anyone hope to get to heaven if he doesn't want to worship?" he asked.


Exactly how long was the sermon?

53 minutes.


On a scale of 1-10, how good was the preacher?

7 – I wavered between a 7 and an 8. I liked Pastor Lew's message but have settled on a 7 because of the length. Pastor Lew spoke loudly and rapidly and walked about as he spoke, pausing often to mop his brow and to ask for an Amen from the congregation.


In a nutshell, what was the sermon about?

The pastor took Psalm 91 as his text ("He who dwells in the shelter of the Most High will abide in the shadow of the Almighty"). He entitled his sermon "What is your emergency?" It is a happy coincidence that the emergency phone number in the United States is 911. In Bible college they used to call Psalm 91 the "911 psalm". It's the reading to turn to when you are in trouble. We like to think that we can handle emergencies on our own, that we don't need God's help. Perhaps we've been hurt by church in the past. But God will never hurt us. We must abide in God, not simply visit him now and then. Sometimes we can't find peace. But the peace of God passes all understanding (Phil. 4:7) and is ours to have if the Holy Spirit lives in us. Run to God, not away from God! Unpack your bags and stay! Have a relationship with God, not just an acquaintance.


Which part of the service was like being in heaven?

I was moved by the sincerity and intensity of the service, and how attuned the congregation seemed to be to Pastor Lew's message. The service came to and end with a call for people to come forward who were in need of prayer. Several did, and we prayed over them with outstretched arms.


And which part was like being in... er... the other place?

Well, it was loud. After 40 minutes of Christian rock music, my ears were aching.


What happened when you hung around after the service looking lost?

Several people came up to me, shook my hand, thanked me for coming, and said they hoped I'd be back.


How would you describe the after-service coffee?

There was none.


How would you feel about making this church your regular (where 10 = ecstatic, 0 = terminal)?

7 – This is not the tradition I was brought up in and is not really my worship style, but I found the warmth and sincerity of the congregation very moving and inviting.


Did the service make you feel glad to be a Christian?

Yes.


What one thing will you remember about all this in seven days' time?

"Speaking in tongues is like toilet paper."