Mystery Worshipper:
Ellie.

The church:
Big Valley Grace Community, Modesto, California, USA.

Denomination:
Independent (formerly Baptist, still similar).

The building:
One of a complex of large, well-designed buildings on a huge campus with lots of greenery. Inside, there is the usual megachurch auditorium arrangement, but they also have an "altar room" filled with comfy chairs and couches and decorated very serenely. You can go there after the service and receive individual prayer, which I did.

The church:
A lot of focus on love. They express this through many local community service projects.

The neighborhood:
Modesto is a city in north-central California about 90 miles inland from San Francisco in an area of rich farmland. Legend has it that the city was originally to be named after a wealthy 19th century California financier. When the gentleman humbly declined the honor, a Spanish-speaking bystander is said to have remarked "Muy modesto" and the rest is history. The 1973 George Lucas film American Graffiti was shot here (Lucas is a native of Modesto). Big Valley Grace Community Church is located off the freeway in a previously very farm-oriented area that is seeing a bit of development.

The cast:
Pastor Rick Countryman gave the sermon, and Pastor Scott lead the prayer at the end of the service.

The date & time:
Sunday, May 29, 2011, 10.45am.


What was the name of the service?

Contemporary Worship Gathering.


How full was the building?

Mostly full, even in the balcony. Several hundred people, at least.


Did anyone welcome you personally?

A gentleman said hello and offered to open the door for me.


Was your pew comfortable?

No pews, but the chairs are quite cushy and comfortable.


How would you describe the pre-service atmosphere?

Friendly and chatty.


What were the exact opening words of the service?

I missed this because the woman sitting next to me chose this moment to say something to me.


What books did the congregation use during the service?

A take-home pamphlet with sermon notes (fill in the blank) and The Holy Bible, New International Version. Sermon notes and scriptures were also displayed via overhead projection and on TV sets mounted on the walls.


What musical instruments were played?

Keyboard, guitars, drums, singing (a band).


Did anything distract you?

The distance to the front. I kept trying to look at the pastor rather than at the TV. Also, the woman next to me ignored me until I got an offering envelope, at which point I turned around to find her with her hands in my child's face in the stroller! Everyone else was attentive to the sermon.


Was the worship stiff-upper-lip, happy clappy, or what?

Contemporary, reverent and upbeat. We stood to sing along with the band, and some people lifted their hands. Anyone who is familiar with contemporary Christian music (such as Hillsong) would know most of the songs already.


Exactly how long was the sermon?

I am unsure, as my child distracted me from keeping track of this. It did not feel excessively long.


On a scale of 1-10, how good was the preacher?

8 – Pastor Countryman had a very personal and friendly delivery style. Also, he was nearly moved to tears a few times when speaking of his own experience coming to God 30 years ago.


In a nutshell, what was the sermon about?

"Knowing God: Gracious." The pastor spoke about the difference between grace (getting something you don't deserve, such as a gift) and mercy (not getting something you do deserve, such as punishment). God gives us grace for our salvation and to become more like Christ. God's grace means that some will run across the finish line when they get to heaven, but it also means that some of us will struggle and stumble there. God in his graciousness will have to drag some of us there! It takes time and work to grow and change, but that is exactly what God's grace is there for. God will finish the good work he begins in each of us.


Which part of the service was like being in heaven?

The worship was wonderful, and so was the pastor's emotional delivery (he really meant what he was saying). He took God's grace personally. This made the service come alive.


And which part was like being in... er... the other place?

The woman sitting next to me! People should ask before they start trying to grab your baby. I said nothing: it was the only way not to list myself as an answer!


What happened when you hung around after the service looking lost?

No one said anything to me, which was a bit surprising given how friendly they seemed before the service.


How would you describe the after-service coffee?

I ended up praying with someone in the altar room (see illustration below) and missed out on the coffee. But the serenity I felt was worth it!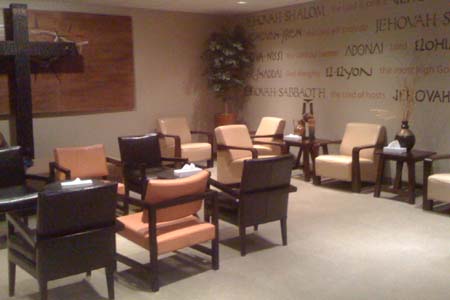 How would you feel about making this church your regular (where 10 = ecstatic, 0 = terminal)?

7 – I attend a different church in town, but this is also a great place. It was a good experience, and God's presence is there.


Did the service make you feel glad to be a Christian?

For sure!


What one thing will you remember about all this in seven days' time?

The altar room.