Mystery Worshipper:
Amanda B. Reckondwythe.

The church:
St Peterís, Litchfield Park, Arizona, USA.

Denomination:
The Episcopal Church, Diocese of Arizona.

The building:
A white stone building in the Spanish mission style on a lush green campus. The interior is a plain white room with a wood-beamed ceiling, wood-carved stations of the cross on the walls, and a wooden altar in a small sanctuary backed by a white brick wall and framed by an arch.

The church:
The parish includes a highly regarded Montessori school for preschool through third grade. They also run a second-hand clothing store, the proceeds of which go toward their other ministries. These include a food bank and a support program for homeless families as well as spiritual and social groups. Worship includes a contemporary service on Saturday evenings plus a Rite 1 eucharist and two Rite 2 eucharists each Sunday, plus a Taize candlelight service the first Sunday evening of each month.

The neighborhood:
Litchfield Park is a rather high-end suburb to the west of Phoenix featuring upscale homes with well-manicured landscaping, golf courses, and chic shopping centers. The church is located on Old Litchfield Road just off Indian School Road, one of the main east-west thoroughfares linking Phoenixís western suburbs with the East Valley. The Litchfield Park fire station is directly across the street.

The cast:
The Revd Gae Chalker, pastor; the Revd Deacon Gay Romack; Ron Schlabach, lay preacher; Mary Benett, director of music ministries.

The date & time:
Palm Sunday, April 17, 2011, 9.30am.


What was the name of the service?

Holy Eucharist Rite 2.


How full was the building?

I counted room for about 250 and it was comfortably full without being overcrowded. Mostly young to middle aged people, some with families.


Did anyone welcome you personally?

No. The service began out on the lawn (see below) and an usher was handing out bulletins, but he must not have seen me. I helped myself to one from a basket on the ground.


Was your pew comfortable?

Yes Ė wooden pew with red upholstery.


How would you describe the pre-service atmosphere?

The earlier service was running late, as might be expected for Palm Sunday, and people arriving for the 9.30 service stood about on the lawn visiting amongst themselves. Word somehow spread that we should congregate around a small stone plaza for the blessing of palms.


What were the exact opening words of the service?

"Good morning. What a beautiful day it is."


What books did the congregation use during the service?

A bulletin was handed out but it contained only announcements and advertisements. Once we were inside the church, all texts and hymn lyrics were projected onto a screen (not always at the proper times). The Hymnal 1982, the Prayer Book 1979, and The Holy Bible, New Revised Standard Version, were in the pews, but we didnít use any of them.


What musical instruments were played?

Organ for "All Glory, Laud and Honor" as we processed into church, but grand piano for everything else. There was a mixed choir of eight people who wore white blouses or shirts and black skirts or slacks. Mrs Benett, director of music ministries, wore a cassock and choirmasterís cotta.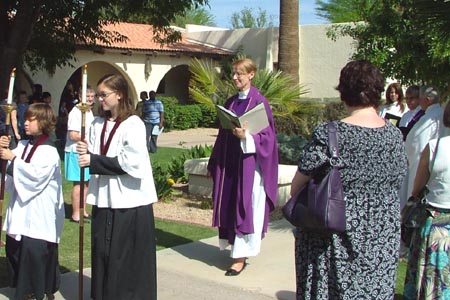 Did anything distract you?

The St Matthew Passion was read in parts but there were some "mystery voices" from people who were not standing at the lecterns. That is, some of the parts were taken by choir members and it wasnít always clear who was speaking what part. But the biggest distraction came at communion time Ė see below.


Was the worship stiff-upper-lip, happy clappy, or what?

It was billed as a Rite 2 eucharist but the prayers were rather liberal rewordings of the prescribed Prayer Book texts. As mentioned, the service began outside, where the pastor (vested in chasuble rather than cope, and in purple rather than red) and deacon (vested in alb and deaconís stole) blessed the palms. Holy water was not used. As we processed inside, ushers stationed at the doors handed us the blessed palms. The passion was read by a woman (narrator) and three men (Peter, Judas and Pilate) in street clothes; the pastor (the high priest); and the lay preacher (Jesus) in alb. Various choir members read the turba parts, either solo or in ensemble. Neither incense nor bells were used at mass. I noticed that the celebrant performed her ablutions before, not after, receiving the gifts. Both the hymns and service music were unfamiliar Ė I could have wanted the notes in addition to the words (or perhaps not Ė read on). We were invited to recite the Lordís Prayer in tongues Ė i.e., in whatever language we were comfortable with. I chose Latin.


Exactly how long was the sermon?

11 minutes.


On a scale of 1-10, how good was the preacher?

9 – The lay preacher, Mr Schlabach, had notes in front of him but barely glanced at them. He spoke in a strong, assured voice and seemed very comfortable both with his subject matter and with preaching in general.


In a nutshell, what was the sermon about?

Jesusí entry into Jerusalem was a very courageous act. Despite the waving of palms and the hosannas, he knew he had a price on his head, that someone wanted him dead. He didnít have to celebrate Passover in Jerusalem, but he chose to do so even though he feared for his life. Yes, Jesus was frightened! We, too, are called upon to be courageous. It is unlikely that any of us will become martyrs, but still the Christian life is not an easy one. Our own personal entry into Jerusalem, to die to one life in order to be born into another, requires courage; we mustnít jump ship as Peter did. Courage comes from faith and trust in God the Father.


Which part of the service was like being in heaven?

I liked the sermon very much. And despite the liberties taken with the Prayer Book and the general absence of ceremony, I found myself "getting into it" and enjoying my worship experience. That is, until...


And which part was like being in... er... the other place?

The Sunday school children joined us at communion. The quiet, reverent mood instantly evaporated as the little fruits of Montessori permissiveness came babbling in. Even the music changed Ė it hadnít exactly been traditional up until that point, but suddenly we were immersed in a medley of Bible camp jingles and painfully contrived poetry ("Jesus is the head, come and eat his bread" sort of thing).


What happened when you hung around after the service looking lost?

The final song was "The King of Glory Comes", to which everyone clapped along as they sang. "Phew! Itís hard work being Episcopalian!" the pastor gasped (but Iím sure she was thinking of other reasons than I was). After that she gave the blessing and dismissal, and we all went out to the patio for refreshments as the pianist played that old warhorse, Jean-Baptiste Faureís The Palms (but Iíll bet I was the only one who noticed). There was a welcoming table set up, but I was in no mood to visit it.


How would you describe the after-service coffee?

There were small cakes, which I didnít sample, and coffee. The coffee was hot but, judging from its taste, instant. It had been made too strong. I had to pour it out after a sip or two.


How would you feel about making this church your regular (where 10 = ecstatic, 0 = terminal)?

2 – This is a hard one because I donít want to fault this congregation. They seem an energetic bunch who love each othersí company and their church. But I am more sympathetic to the schooling methods of Charles Dickensí Mr Gradgrind than I am to those of Maria Montessori, and to have to deal with that many undisciplined children milling about is upsetting to me. Also, I like a tighter liturgy. Why is it that people persist in thinking they can take license with the prescribed texts of the Prayer Book?


Did the service make you feel glad to be a Christian?

Yes, for the most part.


What one thing will you remember about all this in seven days' time?

The excellent sermon.