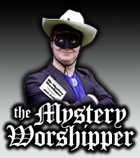 Comment on this report, or find other reports.

Our Mystery Worshippers are volunteers who warm church pews for us around the world. If you'd like to become a Mystery Worshipper, start here.

Find out how to reproduce this report in your church magazine or website.
1516: Hillsong, City Campus, Waterloo, Sydney, Australia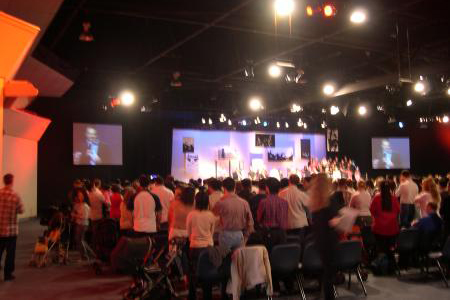 Mystery Worshipper:
Alicelambchop.

The church:
Hillsong, City Campus, Waterloo, Sydney, Australia.

Denomination:
Australian Christian Churches (formerly Assemblies of God in Australia).

The building:
One would never know this building was a church unless one knew of the Hillsong name. The external appearance is that of an ex-warehouse, although it has now been painted a charming blue and has large glass doors adorned with red fabric banners. It is devoid of any religious symbols both inside and out. Immediately inside is a foyer, complete with information desk, coffee stand, welcome lounge and resource centre (bookshop). Off the foyer is the main auditorium, where there are rows of seating and a large platform/stage upon which are several large screens but not much else. It is a large, dark space that fills quickly and energetically.

The church:
Hillsong is very well known on the Australian religious landscape, for both its popularity as well as its controversies. The church community itself seems to let this fame pass them by, because the people themselves seem to be friendly and tight knit despite its giant membership. This is based largely on the extensive programs run by the church in addition to weekend services, something that allows each churchgoer an opportunity to make friends even though the services are so large and anonymous. The majority of the congregation is aged under 30, and all appear to be really trendy, even the pastors and worship leaders.

The neighbourhood:
Waterloo is an interesting place for this church because in terms of socioeconomics the area is poor but the church is rich. I would guess that few of the congregation actually live in this suburb. It is known for its poor, indigenous and drug using population. Perhaps this is utilised by the Hillsong street teams in terms of charity, but I find it a nice irony that such a glossy church is located in such a "difficult" area. That said, the area is also being heavily developed with new apartments and the lifestyle that goes with them. This makes the area a very interesting mix, especially in contrast to Hillsong's other campus, which is located in Sydney's conservative, affluent Hills District, also known as the "Bible Belt."

The cast:
The names of the worship leaders were not clear. I could only work out that one was called Julie, or perhaps Julia, and the other Ben. The pastor was a well spoken man named Robert Ferguson.

The date & time:
29 December 2007, 5.00pm. This church has a choice of eight services over the weekend – this was the first Saturday service.


What was the name of the service?

Saturday 5.00pm Weekend Service.


How full was the building?

This is a large space but it was about 90 per cent full. The bubbling nature of the service makes it seem much fuller.


Did anyone welcome you personally?

At the door I was welcomed by three separate people within 30 seconds of each other. None of them made eye contact though. During the meet and greet, the woman next to me introduced herself as Naomi and proceeded to talk my ear off. She didn't stop until the worship commenced, leaving me feeling a little awkward that I knew all about Naomi's Christmas but was unlikely to talk to her again.


Was your pew comfortable?

The seating arrangements were much like any entertainment venue – no pews but those chairs that can be clicked together endlessly. But they were padded, a luxury that was wasted seeing as about half the time we were standing and swaying or praying. There was plenty of leg room, which I greatly appreciated, allowing ample room for slouching. In the area where I was sitting, there was enough room for a chair or two between me and my neighbours. However, this made passing the collection bucket more difficult than it might have been.


How would you describe the pre-service atmosphere?

The atmosphere was energetic and bustling. The foyer was full of people walking around and chatting, volunteers at information stalls and friends hugging and squealing (remember it is a young congregation). On top of this din was superimposed the noise of pop rock blasting into the foyer. Upon entering the auditorium, I was struck by the flashing stage lights in an otherwise dark room (so dark I could barely see to take notes). This made the whole atmosphere quite frantic, although I'm sure the intention was to induce excitement and a sense of expectation that God would change lives tonight.


What were the exact opening words of the service?

The worship leader said, "Hello! Welcome to church tonight" and then began singing.


What books did the congregation use during the service?

There were no Bibles supplied, unless you responded to the later altar call, in which case you were given a Bible. Otherwise it was BYO Bible, although it would be easy to get through the service without one since the relevant passages were displayed on a screen (New International version to be exact). Pastor Ferguson also referenced a book entitled Holy Fire: When God Manifests His Power, which interestingly enough was written by his own brother John Ferguson. There were, in addition, numerous references to various resources published by Hillsong Church itself.


What musical instruments were played?

Hillsong is famous for its worship music and I was not disappointed. There were two electric keyboards, acoustic guitar, electric guitar, percussion including a drum set and two giant conga drums, two lead singers, five backup singers, and to top it all off a 20 voice choir.


Did anything distract you?

The entire service itself was a little distracting because I felt a bit overstimulated. There was so much going on it was hard to settle down. Specifically I was distracted by latecomers who were being shown to their seats by what appeared to be Jesus' bodyguards – men in matching black Hillsong t-shirts with little earpieces and sharp eyes. I was also conscious of people being aware that I was taking notes. And my neighbour popped a breath mint into her mouth in the middle of the worship music.


Was the worship stiff-upper-lip, happy clappy, or what?

The worship style was typically Pentecostal: high emotion, lots of closed eyes and hands raised to heaven. Toward the front it was at times like a mosh pit, with people jumping up and down and raising their arms. The contemporary Christian music featured many songs that have become hits outside of their religious context, so with the help of the lyrics displayed on screen, the worshippers really got into the spirit. I did not see any tears, but there was an earnest intensity upon many faces.


Exactly how long was the sermon?

37 minutes.


On a scale of 1-10, how good was the preacher?

9 – Robert Ferguson was a treat to listen to. He has the most beautiful British accent which he used like an expert musician – passionate when discussing God's expectations of us, deep and booming but crisp when reading the biblical passages. But it was not only his presentation, but his content that was very good.


In a nutshell, what was the sermon about?

He began with the Great Fire of London (1666). I was wondering where on earth he was going with this story, but it all became clear when he explained that the sermon was about baptism by fire. Even though the fire began so small that the Lord Mayor remarked that even a woman could piss it out, in the end 13,000 houses, 89 churches, and 52 guild halls had been destroyed. Even so, some good did result – London was never again to experience an epidemic of the Bubonic Plague. The awesome power of God is intimidating, but we are also drawn to it and it saves us. It is both amazing and terrifying. Moses and the Israelites were afraid of the pillar of fire that led them through the parted Red Sea, but they were baptised and changed by it and obeyed it. The power of God's fire reveals itself in four points: examination (the fire of God is always a test), sanctification (it makes the righteous holy), discriminating (it consumes the unholy but purifies the holy), and liberation (it liberates us from the past and sets us free into a future with God). He ended by returning again to the story of the London fire, giving the sermon clarity and rhythm.


Which part of the service was like being in heaven?

At Hillsong, the music makes up a large part of the service; however, it can be quite hit and miss. This weekend was average except for the rendition of "Amazing Grace" which had an intensely powerful drum beat that got into my heart. I really enjoyed seeing everyone getting into the atmosphere. The best part, though, was listening to Robert Ferguson reading from Exodus and Daniel. He was like a grand storyteller. I wish my dad had been as gifted when he read to me as a kid.


And which part was like being in... er... the other place?

In addition to its music, Hillsong is known for its commercialism, and this rang out loud and clear throughout the entire service. From the moment you walk through the doors there is an excessive amount of self promotion befitting a giant corporation. The worst was mid-service, when they pause for what I suppose is their equivalent of church announcements. But instead of a little old lady reading from a bulletin, we were treated to the Hillsong News projected onto the screens. I felt like I was watching an infomercial – "and now a word from our sponsor," except that the church is its own sponsor. I object to seeing such slick advertising in church. And then there was the altar call. The person leading this reminded me of a used car salesman trying to sell me Jesus. The same person also called for the offering, saying things like "We've been given so much by Jesus so now it's time to give back" – as if we could somehow repay Jesus on Visa. It seemed so commercial to be giving our credit card information to the church. I wanted to give them nothing except the Mystery Worshipper calling card.


What happened when you hung around after the service looking lost?

It was announced that visitors should go to the welcome lounge after the service. I stood right at the entrance to the lounge, looking longingly into the room as if I wanted to enter but was afraid to. No one encouraged me to go in – indeed, no one spoke to me at all! Everyone seemed too busy meeting up with friends to care about anyone outside their group. I didn't even get offered any promotional material that was being handed out on platters by creepily commercial volunteers.


How would you describe the after-service coffee?

There is a coffee stall in the foyer complete with the Hillsong logo – embossed, not just a cheap sticker slapped on the side. Coffee and tea were available for $AUS2.50 (but were complimentary in the welcome lounge), and biscuits were also on offer. There was also a sausage sizzle going on in the foyer, at which I saw someone purchase a small gourmet pizza. This is the kind of standard that is kept at Hillsong Café.


How would you feel about making this church your regular (where 10 = ecstatic, 0 = terminal)?

4 – This church might be great for anyone under 30. Everyone seemed trendy and fun, and the service was energetic and for the most part enjoyable. As with many megachurches, there is an opportunity for much of one's social life to be met at church. However, this church is far too commercial for me, and I think the services could easily become monotonous. There is not enough theological depth to sustain me for any extended period. I get the feeling this church is all about feelings.


Did the service make you feel glad to be a Christian?

Hillsong reflects really positively on how Christians can become a community. I could clearly see mini-communities operating within the larger group. But even though I enjoyed the sermon, I felt like the preacher was a guest speaker and that his interesting approach to God seemed more connected with him personally than with the church itself.


What one thing will you remember about all this in seven days' time?

I had a rockin' version of "Amazing Grace" stuck in my head for many days afterwards.



We rely on voluntary donations to stay online. If you're a regular visitor to Ship of Fools, please consider supporting us.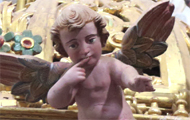 The Mystery Pilgrim

One of our most seasoned reporters makes the Camino pilgrimage to Santiago de Compostela in Spain. Read here.



London churches

Read reports from 70 London churches, visited by a small army of Mystery Worshippers on one single Sunday. Read here.