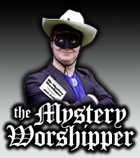 Comment on this report, or find other reports.

Our Mystery Worshippers are volunteers who warm church pews for us around the world. If you'd like to become a Mystery Worshipper, start here.

Find out how to reproduce this report in your church magazine or website.
1335: Seaton Uniting Church, Seaton, Adelaide, South Australia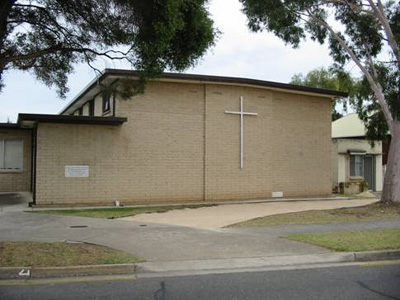 Mystery Worshipper:
Burke and Wills.

The church:
Seaton Uniting Church, Seaton, Adelaide, South Australia.

Denomination:
Uniting Church in Australia.

The building:
There is an old church on the land, painted white, as well as a newer building of brick, in 1970s style. Inside, we found several very nice banners, carpeted floor, and padded pews. The eye was drawn to the rustic cross at the front, made of weathered timber.

The church:
They describe themselves as "a Bible believing church [where] the Scriptures are taught and practised." There is both a morning and evening service on Sundays, as well as Bible studies and "Kids Club" during the week. They are affiliated with the Uniting Church in Australia, formed in 1977 as a union of the Congregational, Methodist and Presbyterian Churches of Australia, with strong involvement in social, environmental and political, as well as moral, issues.

The neighbourhood:
Adelaide is the capital of South Australia and the fifth largest city in Australia. It is a "planned city," arranged in a grid with five squares in the inner city and a ring of parks surrounding it. The inevitable urban expansion has to some extent outgrown this original plan, and the newer areas are not as integrated into the urban layout as much as are the older ones. Seaton is one of the older western suburbs of Adelaide, with older houses, shops, etc., and is home to the Royal Adelaide Golf Club.

The cast:
The minister was absent, but a chap called Darryl led the service, and a lady named Joanne led the singing.

The date & time:
Sunday, 20 August 2006, 10.00am.


What was the name of the service?

Family Worship.


How full was the building?

There were about 20 people at the service. We estimate that the building would hold 100 comfortably.


Did anyone welcome you personally?

We were warmly greeted at the door with several handshakes, guided to a seat, and greeted again with more handshakes as we were seated.


Was your pew comfortable?

This was the most comfortable pew I've ever sat in. All the pews were of black metal with bright orange vinyl coverings, and were set off nicely by the brown carpets. The colour was a bit off-putting, but the overall result was a fantastic 1970s retro look, taking us right back to our formative years.


How would you describe the pre-service atmosphere?

Chatty, friendly, enthusiastic, welcoming.


What were the exact opening words of the service?

"Good morning and welcome."


What books did the congregation use during the service?

The Good News Bible was in the pews, but no other books were in evidence. The songs were all displayed on a wall using an overhead projector.


What musical instruments were played?

Piano and a small drum kit. I was expecting a guitar, but sadly none was in evidence.


Did anything distract you?

I feel mean even mentioning it, but there was a little old lady in the seat in front, with an unfortunate twitching habit. About two-thirds of the way through the service, it occurred to me that she looked exactly as if she had some great show tunes piped in through her hearing aid and was enjoying them immensely.


Was the worship stiff-upper-lip, happy clappy, or what?

This was a very traditional 1970s type service. That is, it had a lot of standard traditional bits, with the prayers in all the right places, and the order of service was very standard, but it also had the ultra modern 1970s chorus singing, with instruments, overhead projector, and decor.


Exactly how long was the sermon?

16 minutes.


On a scale of 1-10, how good was the preacher?

8 – Darryl obviously wasn't the regular minister, but he did a great job anyway. He had a message that he wanted to get across, and he did it neatly and well. He referred to notes, but not excessively. He looked around, making eye contact with members of the congregation. The sermon obviously struck a chord with at least one person, who got up following the sermon to tell us about a special event in her week.


In a nutshell, what was the sermon about?

The sermon was based on Ephesians 5:18: "And be not drunk with wine, wherein is excess; but be filled with the Spirit." The Holy Spirit is within us all, although we may not know or recognise him. Darryl went on to talk about the Holy Spirit in baptism and conversion, and in our daily lives. He then told us about the gifts. There are 21 gifts mentioned in the Bible. Everyone has a gift.


Which part of the service was like being in heaven?

It was amazing how enthusiastic the singing was, for such a small group! Everyone obviously knew the songs.


And which part was like being in... er... the other place?

People kept surreptitiously turning to look at us, when they thought we weren't looking. It didn't matter to start with, but once everyone had looked, some seemed to look again, and at the strangest moments. This may have been because we weren't exactly dressed for the occasion, having dropped in on the way home from the beach, in our jeans, and neither of us thought to remove our shoes.


What happened when you hung around after the service looking lost?

Several people insisted that we stick around to have something to drink. These were VERY nice people, and extremely friendly.


How would you describe the after-service coffee?

Instant, in china cups, but we had tea instead. It was served in the same room where the service had been held, so it wasn't easy to sneak out.


How would you feel about making this church your regular (where 10 = ecstatic, 0 = terminal)?

8 – It isn't close enough to our house for convenience, but the people were wonderful. If they just provided the melody line with the hymns, and didn't call them songs, they would rate a 9.5.


Did the service make you feel glad to be a Christian?

Yes! Wonderful people, great attitude. It's good to know that there are nice people who still care about others.


What one thing will you remember about all this in seven days' time?

The 1970s thing. It was so well done, one might almost think it was original!



We rely on voluntary donations to stay online. If you're a regular visitor to Ship of Fools, please consider supporting us.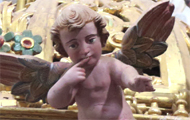 The Mystery Pilgrim

One of our most seasoned reporters makes the Camino pilgrimage to Santiago de Compostela in Spain. Read here.



London churches

Read reports from 70 London churches, visited by a small army of Mystery Worshippers on one single Sunday. Read here.