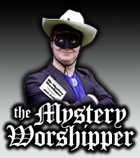 Comment on this report, or find other reports.

Our Mystery Worshippers are volunteers who warm church pews for us around the world. If you'd like to become a Mystery Worshipper, start here.

Find out how to reproduce this report in your church magazine or website.
1268: St Mary's Cathedral, Colorado Springs, Colorado, USA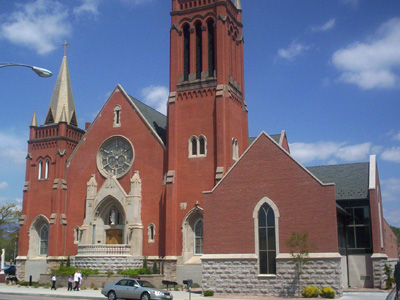 Mystery Worshipper:
Harriet M. Welsch.

The church:
St Mary's Cathedral, Colorado Springs, Colorado, USA.

Denomination:
Roman Catholic.

The building:
The cathedral, which is the oldest Catholic church in Colorado Springs, looks simply beautiful thanks to a recent renovation that preserved its historic appearance. Displayed in the courtyard are ceramic tiles detailing every church in the diocese, which cover a lot of territory in Colorado.

The church:
I sensed that the community is active in service ministries, such as the soup kitchen just across the street that feeds hundreds of homeless daily. The cathedral's website lists several other ministries of interest.

The neighborhood:
Colorado Springs, located high up in the mountains about 70 miles south of Denver, was established as a posh resort community and still attracts a considerable tourist trade. It is home to the United States Air Force Academy as well as many evangelical religious organizations, including the International Bible Society among others. In fact, the city is known in some circles as the Protestant Vatican. St Mary's is in downtown Colorado Springs, which has been undergoing urban renewal and historic renovations. Nearby is a park that is popular with the homeless who patronize the nearby soup kitchen and doubtless attend mass at St Mary's.

The cast:
Celebrating mass was the Rev. Stephen Parlet, who was visiting from a nearby parish. The Very Rev. Donald F Dunn, pastor of the cathedral, assisted.

The date & time:
Saturday, May 13, 2006, 4.00pm.


What was the name of the service?

Anticipated Sunday Mass.


How full was the building?

Bulging at the seams! The cathedral was full 10 minutes before the service. There were folding chairs set up along the walls. Most of the congregants appeared to be elderly, and many were dependent on portable oxygen tanks (Colorado Springs is over 6,000 feet above sea level). I saw a few families, but no babies.


Did anyone welcome you personally?

Two very sweet older women greeted us at the door. But as I sat down, my pew neighbor not only extended no welcome, but even got up and walked to the back of the church! I gave my armpits a furtive sniff but noticed nothing offensive. She never returned, so I slid over to her choice aisle seat.


Was your pew comfortable?

The hard wooden pew was stylish but not comfortable. I settled back, though, knowing that mass seldom runs over an hour. Kneeling was also uncomfortable, but that was my fault, as I'd run a marathon six days earlier.


How would you describe the pre-service atmosphere?

There was murmuring and low talking, people coughing, etc.


What were the exact opening words of the service?

"Good evening, everyone. Please mark the opening hymn on page number 582." The organ accompaniment for that opening hymn was much too loud and pitched way too high for comfortable singing.


What books did the congregation use during the service?

There was one hymn book in the pew rack: Ritualsong. There was no bulletin and no missalette. We had to follow along by memory. I was raised Catholic, but haven't been to mass for at least a dozen years. Amazingly, all the words came back to me!


What musical instruments were played?

A loud, booming organ for most of the service, joined by piano and violin at the offertory.


Did anything distract you?

The cathedral's large, beautiful baptismal font included a fountain that kept gurgling like a babbling brook. I silently thanked God that I had emptied my bladder before the service. The constant noise of the oxygen tanks was a distraction, too. In a positive way, the beauty of the church was captivating: the wood floors, the stained glass, the pastel, unique stations of the cross, all kept me glancing about. Finally, Father Parlet is a rather good looking man, and I'm afraid I must confess that distracted me somewhat too.


Was the worship stiff-upper-lip, happy clappy, or what?

The hymns were hard to sing and not many congregants joined in. The atmosphere was not cold, but didn't seem exuberant either. However, my opinion changed as everyone went forward to receive communion. Many people exchanged hugs and embraces as they approached the altar, and it was then that I realized that most of them knew each other. The peace ceremony was also friendly, more so than in some Protestant churches I've attended. An especially poignant moment occurred at the end of mass, when Father Parlet called to the front anyone who would be serving the elderly, shut-ins, or homeless in the community. Then the whole congregation reached out to bless them.


Exactly how long was the sermon?

16 minutes.


On a scale of 1-10, how good was the preacher?

6 – Father Parlet spoke quite pleasantly, using many real-life examples to illustrate his points.


In a nutshell, what was the sermon about?

It was Catholic School Week, and Father spoke on the continuing place of the Catholic school system in the broader education picture.


Which part of the service was like being in heaven?

Despite some excesses here and there, I thought the cathedral's appearance and decor were very impressive. I especially liked the baptismal font, and fantasized about what it would be like as an adult to be immersed in the baptismal waters of such a large font.


And which part was like being in... er... the other place?

Of course, my once and former pewmate who glared at me and left! But I'll be charitable and assume she was schizophrenic. I also thought some of the sung responses were rather drawn out. And it might seem strange to think of this as hellish, but I was expecting a shorter service in a Catholic church – for the one hour and 10 minutes that the mass lasted, I might as well have been in a Protestant church!


What happened when you hung around after the service looking lost?

No one spoke to me at all except for the two priests. And guess what? As we filed out, we were finally handed bulletins!


How would you describe the after-service coffee?

"Coffee and donuts will not be served today," the bulletin sniffed. I'll have to go back for them another day.


How would you feel about making this church your regular (where 10 = ecstatic, 0 = terminal)?

4 – Although I felt good about worshipping in this atmosphere, I think the distractions would eventually get to me. And I would prefer to see more people my own age in the congregation.


Did the service make you feel glad to be a Christian?

Yes. It made me feel better about my Catholic roots. I needed to come back to remember the good things about being a Catholic.


What one thing will you remember about all this in seven days' time?

How everyone bestowed their blessing at the end of mass on those ministering to the elderly and homeless.



We rely on voluntary donations to stay online. If you're a regular visitor to Ship of Fools, please consider supporting us.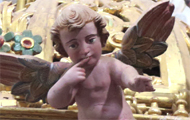 The Mystery Pilgrim

One of our most seasoned reporters makes the Camino pilgrimage to Santiago de Compostela in Spain. Read here.



London churches

Read reports from 70 London churches, visited by a small army of Mystery Worshippers on one single Sunday. Read here.