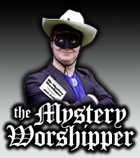 Comment on this report, or find other reports.

Our Mystery Worshippers are volunteers who warm church pews for us around the world. If you'd like to become a Mystery Worshipper, start here.

Find out how to reproduce this report in your church magazine or website.
1212: St Ann Chapel, Palo Alto, California, USA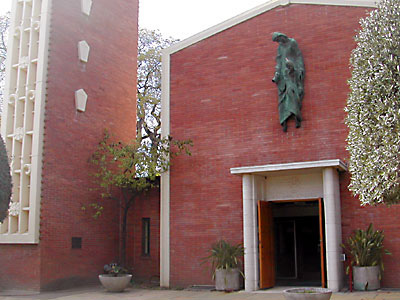 Mystery Worshipper:
Rosebud.

The church:
St Ann Chapel, Melville Avenue, Palo Alto, California, USA.

Denomination:
Anglican Province of Christ the King.

The building:
To a Californian, the building looks majestic and old. It is a small to medium size chapel, with a beautiful statue of St Ann and St Mary above the doorway. The stained glass windows inside are very surreal to behold. The building was dedicated as a Roman Catholic chapel in 1951 and has been described as a "modest treasure of postwar art".

The church:
The chapel was built as a Catholic memorial to a 19 year-old student, Ann Brokaw – the daughter of Congresswoman Clare Boothe Luce and stepdaughter to Time-Life founder Henry Luce. The chapel was sold by the Catholic Church in 1999 and bought by the Anglican Church in 2003. The story of the chapel can be read here.

The neighborhood:
This is a millionaire neighborhood, with sprawling mansions. It's a splendid area just to walk around and dream of just living there, with birds chirping... not that I did that or anything.

The cast:
The vicar, Rev. Bowen Woodruff, and the choir director, Michael Woodside.

The date & time:
March 5, 2006, at 11.00am.


What was the name of the service?

High Choral Mass.


How full was the building?

Twenty people, with one or two people per pew. And one very cute guide dog.


Did anyone welcome you personally?

A kind, older gentleman handed me a church program when I walked in.


Was your pew comfortable?

Hard wood pews: moderately comfortable, with good back support. Nicely padded kneelers, if you wished to kneel. Some people did and others like myself did not.


How would you describe the pre-service atmosphere?

Very quiet and sacred. The beautiful singing from the choir encouraged a feeling of inner contemplation and reflection.


What were the exact opening words of the service?

"Forty days is an idiom for a long, long time."


What books did the congregation use during the service?

The 1928 Prayer Book and a hymn book.


What musical instruments were played?

The organ, which was second only to the regal human vocal pipes at this church.


Did anything distract you?

The young vicar was resplendent in his vestments, which was kind of distracting for a low-church type like myself, but in a good way. The cute guide dog was very distracting as I wanted to get up and pet him. Fortunately, the service had a beauty that made it easy to lose myself in, even though I normally have a short attention span. I found it easy to close my eyes and let God speak to me.


Was the worship stiff-upper-lip, happy clappy, or what?

To somebody who enjoys the Bible being thumped week after week, this service came across as very high church. I heard angels singing and bells after prayers. Eerily, the choir remained hidden somewhere in the back, not to be seen up front along with the organist. I was disappointed that no incense was lit.


Exactly how long was the sermon?

20 minutes.


On a scale of 1-10, how good was the preacher?

7 – he was expressive and deep. He was surrounded by candles, read from a very large, impressive holy book, and occasionally waved his hands in the air to make a point.


In a nutshell, what was the sermon about?

The sermon was about fasting for Lent, how it frees us spiritually to go beyond the limitations of the human body, to become closer to God and seek him. The vicar talked a little about our depravity and how we needed God, but my Calivinist leanings craved a longer sermon on redemption. This is possibly a hang-up of mine!


Which part of the service was like being in heaven?

The singing and organ music was heavenly. I also enjoyed the liturgy, and the communion at the end of the service with wafers and the silver cup holding the wine. I think I am secretly sick of saltine crackers and grape juice at my regular church.


And which part was like being in... er... the other place?

I felt a bit detached from everybody. I was one of five people, including the vicar, under the age of 55. I wondered (immaturely, I admit) if I was too young to be at this church.


What happened when you hung around after the service looking lost?

I sat in my seat and watched most people stream outside the church. So I followed them. Some people almost broke into a sprint, trying to get to their cars and peel away out of the parking lot. Others hovered around outside. They weren't greeting each other much, or talking to newcomers, but were waiting patiently to talk to the vicar. I waited for him, too, since I thought nobody might come up to me but him. I was delighted to see he came right up to me, asked me for my first name, shook my hand and said in a sort of a drawl (I think he is from the south), "Welcome!" A very nice guy. He then made a beeline to a lady to ask her how her mother was doing.


How would you describe the after-service coffee?

Being somebody who greatly enjoys foodage items and coffee, I was glad I loaded up on a mocha and chocolate chip cookie before I got there, since nobody choose to partake of any refreshments. I glanced in the hall at some tea and coffee. There may have been cookies and such, but since ain't nobody was helping themselves to them nor doling them out, I would have been the lone ranger if I went over there.


How would you feel about making this church your regular (where 10 = ecstatic, 0 = terminal)?

7 – I will definitly come back here from time to time. I hunger in my life for more of the high church atmosphere and liturgy. What a wonderful place! The vicar likes to hang out in some sports bar in his vestments, so it looks like he is trying to get some gospel out in the world. I respect that.


Did the service make you feel glad to be a Christian?

Yes, I felt the Spirit there and was deeply moved and touched by the service.


What one thing will you remember about all this in seven days' time?

The artwork in the stained glass windows.



We rely on voluntary donations to stay online. If you're a regular visitor to Ship of Fools, please consider supporting us.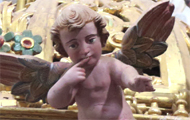 The Mystery Pilgrim

One of our most seasoned reporters makes the Camino pilgrimage to Santiago de Compostela in Spain. Read here.



London churches

Read reports from 70 London churches, visited by a small army of Mystery Worshippers on one single Sunday. Read here.