What is this?

Since ancient times (ok, 1998), Ship of Fools has been sending Mystery Worshippers to churches worldwide. Travelling incognito, they ask those questions which go to the heart of church life: How long was the sermon? How hard the pew? How cold was the coffee? How warm the welcome?

The only clue they have been there at all is the Mystery Worshipper calling card, dropped discreetly into the collection plate.



If you would like to become a Mystery Worshipper, start here.

See our archive of reports

Famous/infamous
UK & Ireland
USA
Oz & NZ
Canada
Elsewhere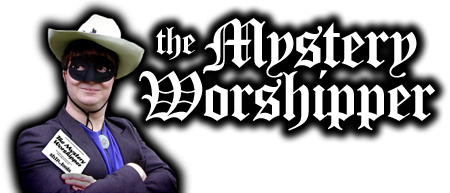 Recent reports


> Fully engaged at St Giles in the Fields, London
> Cafe Church or Morning Prayer? St Dunstan's, Canterbury
> Organ overwhelms at St Alban the Martyr, Holborn, London
> Like family: St Matthew's Lutheran, San Francisco, USA
> God's wrath satisfied at Catherine of Siena, Portage, USA

> On the high side: St Nicholas, Chiswick, West London
> Best place to be: St Bride's, Pitlochry, Scotland
> Touches of home at O'Roark Methodist, Russellville, USA
> Friendly welcome at St Thomas Clapton Common, London
> Dervishes dance at Roehampton Methodist, West London

> Fire & brimstone lurk at St Mark's, Hood River, USA
> Dog sings at Northminster Presbyterian, Phoenix, USA
> No fool's gold at St Pius X, Chula Vista, USA
> Church goes on at St Jude, Detroit, USA
> Unredeemed voucher at Valley View, Paradise Valley, USA

> English sing well at Capel y Traeth, Criccieth, Wales
> Cockroaches at Old St Mary's, Milwaukee, USA
> Good news at St John's, Detroit, USA
> Plenty of incense at St Mark's, Jackson Heights, USA
> God kneels at St Mary's, Stanley, Falkland Islands


Editor's choice


> Robert E. Lee nephew preaches at Epiphany, Tempe, USA
> Promise of hope at the Nativity, Bethlehem
> Unresolved yesterdays at Trinity Cathedral, Phoenix, USA
> Devil gets his due at Schlosskirche, Wittenberg, Germany
> Common prayer at Sacred Heart Basilica, Notre Dame, USA


Comments, corrections and removals


For the latest comments on and corrections to Mystery Worshipper reports, please go here. Reports over two years old can be removed at the request of the church reviewed. Please email here for further details.



We rely on voluntary donations to stay online. If you're a regular visitor to Ship of Fools, please consider supporting us.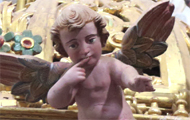 The Mystery Pilgrim

One of our most seasoned reporters makes the Camino pilgrimage to Santiago de Compostela in Spain. Read here.



London churches

Read reports from 70 London churches, visited by a small army of Mystery Worshippers on one single Sunday. Read here.