140: Bobblehead BVM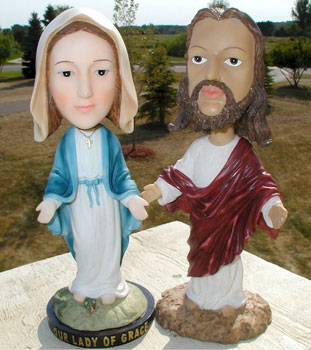 The BVM (Blessed Virgin Mary) meets Bobblehead Jesus in one of this year's Most Highly Favoured Kitschmas gifts. Immaculately styled and standing a queenly 8 inches tall, Bobble Head Mary is ready to give her approving nod to all aspects of the Christmas story.

"Yes, be it unto me according to your word," she nods.

"Yes, I am a virgin, and, the Catholic Church willing, always will be."

"Yes, this is a teatowel I'm wearing on my head."

Bobblehead Mary is a good deal paler than her Son, Bobblehead Jesus. "He has a slightly darker complexion as he spends his days fishing and preaching on hillsides," explains the manufacturer. Bobblehead Mary can be hailed for just $18.95 – click here!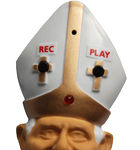 Gadgets for Papa Ratzi

Holy Father Emeritus! Add some ex-infalliblity to your life with our B16 gadgets.