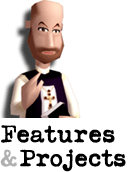 The story so far...

You're currently on our features and projects pages, with material ranging from the satirical to the theological. For more features, click here.
Jesus and the BNP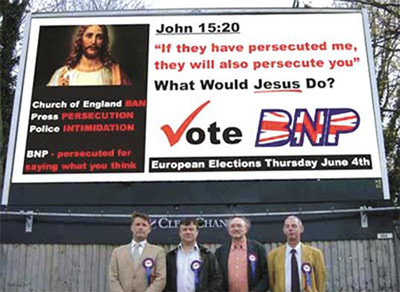 The British National Party (which is critical of Genghis Khan for being soft on foreigners) has dragooned Jesus into its latest advertising campaign. Which just goes to show that you can use the Good Book to sell anything, says Steve Tomkins.

Jesus coming out for the British National Party was one of the more bizarre religious spectacles of last week. The party's new poster quotes Jesus, the well-known white supremacist, saying, "If they have persecuted me, they will also persecute you."

Often assumed to be directed at believers arrested for their refusal to worship other gods, it turns out that these words are actually about the sufferings of far right political parties whose members are not allowed to be clergy in the Church of England.

The BNP are claiming to be the true heirs of the early church and defenders of Christianity, rather than nasty racists that nobody wants around. After all, the Church of England may have the prayers and worship and sacraments and all that mullarkey, but it's the BNP who truly hate Islam. And isn't that the true message of Jesus? Blessed are those who despise and fear un-English religions. Those Samaritans really got his goat.

The poster is one of the most creative reappropriations of the Bible we've seen for a while. There are some rather more obviously relevant verses that they could have chosen to illustrate their position. Perhaps the next poster will get down to policy issues, with the help of Numbers 24:11: "Now leave at once and go home!" It's certainly more likely than Song of Songs 1:5: "Dark am I, yet lovely."

But the potential of the Bible for supporting more or less anything is so great, it's surprising it's not used more. Perhaps other parties will take the BNP's lead.

I look forward to seeing David Cameron endorsed by scripture in the next election. He could start by commending himself to the faithful with Deuteronomy 8:15: "He led you through the great and terrible wilderness." Then 2 Corinthians 5:17: "Old things are passed away; behold, all things are become new." And if that goes well, he could move on to Isaiah 9:6 "And the government shall be upon his shoulders. And he shall be called wonderful..."

As for Gordon Brown, I'm not sure this is quite the tone to aim for, but Isaiah 45:7 comes to mind: "I bring prosperity and create disaster."

There's no reason the biblization of marketing has to be confined to politics either. There must be no end of products the Good Book would be willing to sell us... Google, for example. "Don't be evil" is rather outdated now as their corporate motto. I'd suggest this verse from Psalm 139: "You know when I sit down and when I rise up; you discern my thoughts from afar.

And Tesco could do worse sloganwise than Genesis 44:25: "Go back and buy a little more food."

By the way, if you happen to be an advertising executive who works for any of these clients, and are impressed by the brilliance of these suggestions, while I'm not a position to copyright the Word of God, I'll just leave you with Deuteronomy 15:10: "Give generously to him and do so without a grudging heart; then because of this the Lord your God will bless you in all your work and in everything you put your hand to."

Amen.