What was the name of the service?
Service of thanksgiving for the life of James Michael Rawling (or, as he was known to Ship of Fools shipmates, Gambit).

How full was the building?
Almost full to capacity with only a few spare seats around the edges. Gambit was a popular guy.

Did anyone welcome you personally?
A man in a cassock was at the door shaking people's hands as we arrived.

Was your pew comfortable?
Wooden pew, no cushions. Not too bad, but I've known more comfortable pews.

How would you describe the pre-service atmosphere?
Quiet and reverent. The worship group were rehearsing as we arrived and when they had finished, the organ played quietly in the background.

What were the exact opening words of the service?
The service started with us all singing the hymn, "Christ is made the sure foundation". The first spoken words were, "We meet in the name of Christ, who died and was raised up to the glory of God the Father."

What books did the congregation use during the service?
A service booklet specially preinted for the occasion.

What musical instruments were played?
Organ, piano and violin. There was also a worship group and more traditional robed choir, both of which were very good.

Did anything distract you?
Nothing, really, as part of the service, but I did get somewhat distracted when reaching for a tissue (this was a sad occasion after all) to find that my wife had been putting her own damp tissues back into the packet as she finished with them.

Was the worship stiff-upper-lip, happy clappy, or what?
An interesting mix of traditional and contemporary, which really summed up Gambit's broad liturgical taste. In his opening words, the vicar said, "James was a man who knew the difference between Parry and Kendrick, and what's more, he didn't care!" We sang some fine traditional Anglican hymns, the choir sang William Byrd's "Agnus Dei" and the worship group sang a collection of choruses. Gambit's father read the poem "Westminster Bridge" by Wordsworth and the prayers were led by some of Gambit's friends from Kings College. There were lots of tears as we came to terms with the loss of a friend, but also plenty of laughter as we all remembered some very happy times we had shared with James.

Exactly how long was the sermon?
There was one sermon and several tributes – I'm afraid I didn't time them. Those giving the tributes had been given a strict time limit of two minutes, but I'm sure they didn't stick to that.

On a scale of 1-10, how good was the preacher?
10.

In a nutshell, what was the sermon about?
The first tribute was from Rev. Stephen Mason, Vicar of St Johns. He spoke about the shock we all felt, and about Gambit's deep faith, his good humour and the familiar sight of him in the pub surrounded by empty beer glasses and cigarette papers. Next came Rev. William Ingle-Gillis (known to shipmates as Texas Veggie) on behalf of Gambit's friends from Kings College. He spoke of their time together at Kings, his love of music, theology, sitcoms and Homer Simpson. He spoke very warmly about many late night discussions in the pub. After that, Fjona D'Costa (known to shipmates as daisymay) spoke on behalf of the congregation of St Johns. She spoke about Gambit's superb cooking ability, his faith, his general good humour, even when things were tough for him, and his "competence at camping". Finally, Rev. Tim Ditchfield (known to shipmates as Revd HP Stinker Pinker) spoke on the message of life and death from the scriptures, at one point stating that "James was not a saint in the sense that we see them in stained glass windows, but he was a saint in the true, biblical meaning of the word". As well as speaking about faith and theology, he recounted evenings spent in the pub with James. By this time I was wondering if anybody else had started to detect an ongoing theme here.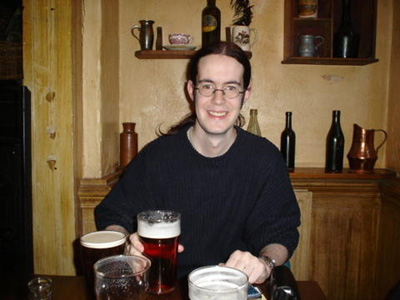 Which part of the service was like being in heaven?
The whole service: the music, the readings, the prayers and the tributes were a great celebration of Gambit's life.

And which part was like being in... er... the other place?
The whole service: the music, the readings, the prayers and the tributes were a constant reminder that we had lost a good friend, taken from us at a tragically young age.

What happened when you hung around after the service looking lost?
Nobody looked lost, as so many people knew each other. Initially I spoke to shipmates I knew and then to some of the people from Kings who I recognised from nights out in the pub with Gambit. Revd STinker Pinker had by now disrobed to reveal a startling paisley clerical shirt, complete with a collar cut out from a washing up liquid bottle. Before you ask, no, it didn't have the word "fairy" displayed on the outside!

How would you describe the after-service coffee?
I expect coffee was available if anyone had asked, but most of us went for the mulled wine and mince pies. As well as the usual red mulled wine, they were also serving white mulled wine, which was a completely new experience for me – I was pleasantly surprised as to how nice it was.

How would you feel about making this church your regular (where 10 = ecstatic, 0 = terminal)?
6 – If I lived in the area I'd possibly give it a go.

Did the service make you feel glad to be a Christian?
Definitely.

What one thing will you remember about all this in seven days' time?
Happy memories of a much loved friend.