Mystery Worshipper: Misericord.
The church: Second Presbyterian, Chicago, Illinois, USA.
Denomination: Presbyterian Church (USA).
Comment: We have received a comment on this report.
The building: This large, fine old Gothic church dates from 1872-74 and was designed by James Renwick, architect of St Patrick's Cathedral in New York and the Old Smithsonian in Washington, DC. It replaced an earlier building that was destroyed in the great fire of 1871. In 1900 another fire gutted the interior, which was restored by the noted Chicago architect Howard van Doran Shaw. The results are "Gothic Revival meets Arts and Crafts meets Gilded Age." The place is famous for its stained glass by Tiffany, Edward Coley Burn-Jones, William Morris and others.
The church: The parish today seems a little small for such an edifice, but the mix of friendly folks appeared to be about 55 percent African American and 45 percent other, mainly white folks. As with most churches, elderly people were readily apparent, but there were younger couples and singles, some children and extended family groups.
The neighborhood: When I moved to Chicago a quarter century ago, this area reminded me of my home (Detroit) and not in a good way. But South Michigan Avenue and the Prairie Avenue historic district have benefited from the success of nearby Central Station development and much beautification. Loft conversions and attractive homes are everywhere you look. Interesting restaurants and small retail stores seem to be taking hold as well.
The cast: The Rev. M. Coleman Gilchrist, pastor; Louis Playford, organist and director of music. There was also a quartet of professional singers.
What was the name of the service?
Eighth Sunday after Pentecost, 11.00am worship with communion, July 10, 2005.

How full was the building?
It was sparse at 100 or so in a space that could seat 1000.

Did anyone welcome you personally?
Most certainly. An usher handed me the service sheet, bid me a warm good morning and (at my request) pointed out the gents.

Was your pew comfortable?
Yes, nice old curved wood pews, dating from the 1900 remodeling no doubt. I noticed that the carved end panels were all different designs and profiles, an interesting detail.

How would you describe the pre-service atmosphere?
It was dignified and warmly cordial. It didn't seem their custom to pray before the service, so socializing was the thing. I was thrilled to see so many African-American ladies wearing attractive summer hats. The wearing of one's Sunday best even by most of the children is not a lost custom. In this respect they seemed to have more in common with an English congregation than with most American churches I have visited. It appeared to be a natural response to the importance of worship in their lives, not a dress code, and not at all for show.

What were the exact opening words of the service?
"Good morning and welcome to Second Presbyterian Church. We will first invite all first time visitors to stand."

What books did the congregation use during the service?
A green Presbyterian Hymnal (I forgot to note the publication date) and a very complete service sheet.

What musical instruments were played?
A pipe organ, which my Chicago Churches and Synagogues says is a 1917 Austin rebuild of the original. An historic instrument, well maintained and competently played (especially in a smallish congregation), scores points with me.

Did anything distract you?
Presbyterians, at least this group, sit a lot. When it's time to sing a hymn, they wait through the intro as long as possible, then hoist it up just in time to sing verse one. The pastor read both of the scripture readings. Page numbers were listed for the first reading (from Psalms) and for the "gospel" reading (which was actually from Romans), but there were no pew Bibles, and not having brought one, I'm not sure what the page numbers were for.

Was the worship stiff-upper-lip, happy clappy, or what?
It was a little more passive than I am used to. On the other hand they most certainly enjoy the passing of the peace, which came early in the service and seemed to be the second official time for visiting with friends. The liturgy went a bit slack here, but these folks really are friendly. The music, especially the solo and anthem, were just as romantic as the gilded-age interior.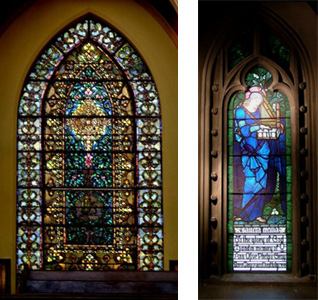 Exactly how long was the sermon?
18 minutes.

On a scale of 1-10, how good was the preacher?
8 – He was a bit soft spoken, but an effective and well prepared preacher. He easily held my attention – I was barely able to let my mind wander to the stained glass!

In a nutshell, what was the sermon about?
Pastor Gilchrist drew from the two readings the theme of "newness of life." He noted that bringing up the past to someone is often unflattering or uncomfortable, and that forgiveness is Jesus' plan for us. He used the example of the transformation of St Paul, and exhorted us to walk in the daylight of God's grace. We are called to forgive and to ask forgiveness.

Which part of the service was like being in heaven?
I hope heaven is full of folks as friendly as those in this church. And the hats, of course. And the interesting and beautiful building. And the paper fans (the church is not air-conditioned).

And which part was like being in... er... the other place?
Such a small congregation in an area that has experienced so much urban renewal. This was especially disconcerting given the beautiful building and friendly and racially integrated congregation. One fellow told me the turnout was typical.

What happened when you hung around after the service looking lost?
Many people struck up conversations with me, both inside the building and out at the street corner.

How would you describe the after-service coffee?
Among the announcements was one explaining that the coffee hour would be pre-empted by a memorial service for a member immediately following. Too bad, but completely understandable. I didn't feel like staying for that service, but I'm sure I would have been welcomed there too.

How would you feel about making this church your regular (where 10 = ecstatic, 0 = terminal)?
8 – I'd feel pretty good about it, especially if I lived in the Central Station area.

Did the service make you feel glad to be a Christian?
Absolutely.

What one thing will you remember about all this in seven days' time?
A beautiful historic building with friendly folk, in a city that is supposedly so segregated, is memorable. And the hats.