Mystery Worshipper: Mark Wuntoo.
The church: Grace Church, Goodmayes, Essex, England.
Denomination: New Frontiers.
Comment: We have received a comment on this report.
The building: The meeting place for Grace Church is their local United Reformed Church building. It has seats in the half-round in a pleasant worship space with wooden beams and wooden carvings. The impressive organ is centre-stage behind the communion table, although the latter was moved this morning to accommodate the music group and the leader/preacher. The choir seats were unused, except for a lone man who did not appear to be participating fully in the service: my guess is that he was a visiting elder from a related church.
The church: Grace Church uses this building because they have grown out of the one they own. The weekday activities are held in their own building. The congregation is gathered from quite a wide area of west Essex. It was formed five years ago following some sort of disagreement between elders of Lifeline Church, another group of the new church variety. Since that time, the small group which separated from Lifeline has grown, partly through a few people who joined following a division in yet another nearby new church stream. The church is committed to evangelism through Alpha courses and, although an introductory leaflet states that they are "involved in caring and praying for those who require help", it was not evident to me how this is fulfilled apart from within the fellowship of the church. Grace Church is part of the local fellowship of churches which is associated with Churches Together in Britain.
The neighbourhood: The church is situated in the commuter belt of London. The area has a mix of housing, although those near to the church are larger than average. There are a number of bus routes which pass the doors and there is a variety of small shops on either side of the church.
The cast: Derek Reynolds, the pastor.
What was the name of the service?
Sunday worship and teaching service.

How full was the building?
There were 60-70 people of all ages, occupying about a quarter of the available space.

Did anyone welcome you personally?
Yes, several people shook my hand and welcomed me. One man asked me rather more personal questions than I was prepared to answer, but he quickly got the message that I was unhappy about this.

Was your pew comfortable?
It was a plain wooden pew and certainly not comfortable, especially after 52 minutes of the sermon/lecture.

How would you describe the pre-service atmosphere?
People were busy greeting one another and so it was fairly noisy, but this is their style and I did not find it disturbing.

What were the exact opening words of the service?
"Good morning. It's a beautiful morning. Let's just stand in the presence of the Lord."

What books did the congregation use during the service?
None, as the songs were projected by an overhead projector. None of the songs was known to me but they were easy to pick up once I learned to fit 15 words into 10 melody notes. People were expected to bring their own Bibles and I think the favoured version was the New International Version.

What musical instruments were played?
A keyboard and an electric guitar.

Did anything distract you?
A number of things were quite distracting. Unfortunately the building had a bad echo: the pastor said he was aware of this, so I wondered why they had not made any real attempt to position the speakers in better places. To be fair, the church has not been meeting here for very long and may still be experimenting with the sound system. The musicians successfully drowned out the prayers with their incessant fiddling and modulating between songs.

Was the worship stiff-upper-lip, happy clappy, or what?
It was a double-decker: a period of songs, short bursts of news and prayers followed by a loose exposition of a Bible passage. Derek had been away at a ministers' prayer and fasting event during the previous week and he reported that New Frontiers had become convinced of "a new release of healing in recent months with more and more signs and wonders". Perhaps with this in mind Derek gave an opportunity for people to go forward for prayer for healing; about 10 people did so. I noticed that nobody took notes during the sermon, indeed a few people looked bored. Maybe this was because they knew that full notes would be distributed after the service and tapes were to be made available to every family.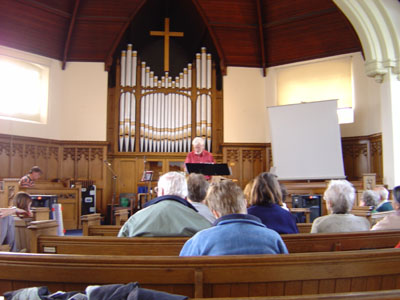 Exactly how long was the sermon?
52 long minutes. It was an exposition of Ephesians 6:1-4, but it felt like a lecture.

On a scale of 1-10, how good was the preacher?
4 – I mention below the lack of eye contact. Derek's voice was quite interesting, but unfortunately this was lost on me because of the appalling echo which took away the quieter words.

In a nutshell, what was the sermon about?
The subject was "Children and Parents" and was typical evangelical/charismatic teaching, with a lot of practical suggestions for parents. Derek told us that the parent-child relationship is a biblical picture of how God relates to us. Children are not naturally good; we all have a sinful nature. There was an emphasis on obedience to parents, particularly to fathers, which pleases God. Fathers have a particular role in bringing-up children; this is one of disciplining, praising and encouraging. Predictably, Derek found opportunity to condemn sex "outside of marriage between a man and a woman", gay sex, the distribution of condoms in schools, the suggestion that doctors need not tell parents that their daughter has had an abortion, and all cases of abortion. He advocated reasonable and just smacking, and said that if this is administered correctly before the age of four or five it should only be needed very rarely after that age. Derek ended by saying that above all else, parents should love their children.

Which part of the service was like being in heaven?
The very warm smile and invitation from the man calling the faithful to worship in the first church I entered –I had walked into the wrong church! It made me want to stay, but I had made up my mind to visit Grace Church.

And which part was like being in... er... the other place?
Derek spent more than 50 per cent of the time with his eyes downcast. I found this lack of eye-contact throughout the service really aggravating and unhelpful. However, if Derek has difficulty in seeing or focusing on the congregation, I apologise for being so critical.

What happened when you hung around after the service looking lost?
I was invited to coffee where one or two people welcomed me and I took the opportunity to speak with the leader.

How would you describe the after-service coffee?
Not too bad, except that it was not fairly traded. There were biscuits available, also.

How would you feel about making this church your regular (where 10 = ecstatic, 0 = terminal)?
1 – The theology and practice is not to my taste and the pressure to conform would be intolerable to me. I was amazed that this new church/restorationist service was conducted by only one person. Derek led the worship, as well as preaching, giving the notices and leading the prayers.

Did the service make you feel glad to be a Christian?
Not really. If this is what being a Christian is about (and I know that it is not) then I'd run a mile.

What one thing will you remember about all this in seven days' time?
Probably the beautiful, ornate organ pipes.