Mystery Worshipper: Mark Wuntoo.
The church: Romford United Reformed, Romford, Essex, England.
Denomination: United Reformed Church.
The building: Built in 1965 mainly of brick around steel girders, the building includes an impressive suite of halls, rooms, and large worship area. From the street (see the photograph) the church appears to have double doors which would be expected to lead into the worship area. Not so! The entrance is round the side and back. The double doors give the impression that the church is closed. The worship area is of a square cruciform shape and is quite plain, but we found it attractive and very functional for worship. Sight lines are excellent from any seat. There is a large attractive silver and grey screen behind the platform area and a few cloth banners on some of the walls.
The church: The congregation included a sprinkling of under 60s and a goodly number of people with special needs. One old man of 87 (as I found out later) was nearly bent double and yet stood for all the hymns. There was also a young child who spent most of the time wandering around the aisles knocking wood on wood.
The neighbourhood: The church is close to the suburban market town centre in a fairly quiet, affluent residential area. Shopping malls and converted office buildings sit nearby.
The cast: The Rev. David Jenkins, a retired minister now serving the national church in (I think) a training role, presided. The resident minister was preaching at her other church. A number of unnamed people read the lessons and the notices. Six elders officiated at communion.

What was the name of the service?
Morning Worship with Holy Communion.

How full was the building?
There were 50 people present in a space which holds at least 400 – but it was the holiday season, and I was led to believe that the usual number of worshippers is double that number.

Did anyone welcome you personally?
Yes, five people literally pounced on us, shaking our hands. They seemed genuinely pleased to see us.

Was your pew comfortable?
Yes, it was a good padded bench with a handy footrail.

How would you describe the pre-service atmosphere?
There was a quiet buzz which made us feel that people were pleased to see one another, but not so loud as to disturb personal prayer and preparation.

What were the exact opening words of the service?
"God saw the earth and it was very good."

What books did the congregation use during the service?
Rejoice and Sing hymnbook and Good News Bible. We were also handed a service sheet.

What musical instruments were played?
An organ. Although there was an area for choir seating, no choir assisted on this occasion.

Did anything distract you?
The cloth banner behind the communion table was slightly off-balance, but once I got used to it I barely noticed.

Was the worship stiff-upper-lip, happy clappy, or what?
It was a non-conformist hymn sandwich.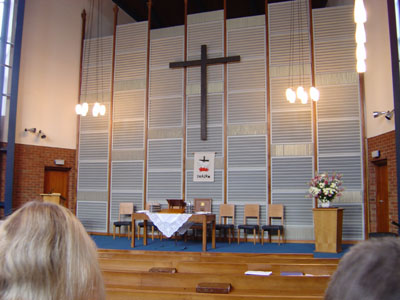 Exactly how long was the sermon?
17 minutes.

On a scale of 1-10, how good was the preacher?
8 – It surprised me that David stood behind the communion table to preach – there was a lectern to one side that I would have expected him to use. He employed notes quite extensively although he looked at us regularly. He had drawn a rough weather diagram which he distributed around the congregation. His voice was not one to send us to sleep, although he was not as animated as we would have liked. He asked many questions to make us think and to challenge us, and we found this a helpful style of preaching.

In a nutshell, what was the sermon about?
David described Jesus's contemporaries as people who lived by the weather – with an element of uncertainty about living. Thus it is in us, as we try to read the signs of the times. If we are disciples of Jesus, we must not always expect peace and tranquility. Jesus challenges our complacency. God will not always "fix it" for us. And we need to keep our eyes on the end of the race to see the author and finisher, Jesus himself.

Which part of the service was like being in heaven?
It melted our hearts to see the old man, severely bent over, making an effort to stand for all the hymns. The intercessions were unfamiliar but very well done – David painted a number of brief pictures of people in distress and then left a few moments for silent, personal prayer.

And which part was like being in... er... the other place?
The regular organist was on holiday, and I'm sorry to say that the stand-in organist played with hardly any expression, was too slow for our liking, and didn't always stay with the music. At least two of the hymns were obviously not well known by most people. We were told that the organ had many beautiful stops, but few of them were put to use that morning.

What happened when you hung around after the service looking lost?
We were offered tea or coffee and then told it would cost us 20p (no notice was on the counter). We chatted with a number of people who were very happy to tell us about the church's history and to answer our questions about the front door.

How would you describe the after-service coffee?
Plain instant coffee in a nice cup and saucer.

How would you feel about making this church your regular (where 10 = ecstatic, 0 = terminal)?
9 – If only Romford United Reformed were nearer to where we live, it would figure very high on our list of desirable places to join – and we are searching for one – although I have a nagging feeling that some of the congregation might find it difficult to cope with my eccentricities.

Did the service make you feel glad to be a Christian?
Yes, this is one of the most welcoming churches we have attended. The preacher was fresh and challenging. The only criticism we would make is that there was not quite the level of emotion that we like to experience in worship.

What one thing will you remember about all this in seven days' time?
The old man, 87 years old, happy to chat, happy to be there, with an active mind, friendly manner, and determined spirit.