What was the name of the service?
Joy at Thanksgiving: Community Thanksgiving Service. This is the 13th year that the eastside churches have gotten together; the first year that the Islamic congregation was invited. The date was given as both November 20, 2001 and 5 Kislev 5762.

How full was the building?
I estimate 150 people.

Did anyone welcome you personally?
I was handed a service sheet with a smile and directions to the coatrack. Several people from my own church (one of the seven) noticed me and said hi, and there were smiles and nods of greeting from virtually everyone to everyone else as people came in.

Was your pew comfortable?
Padded chairs pushed together in rows of six on either side of a center aisle. Shelf under each one for service books. Very well padded.

How would you describe the pre-service atmosphere?
Quiet and expectant, with many quiet hellos and nods of greeting as various people came in. There was some shifting of music stands and chairs to accommodate the music to come later.

What were the exact opening words of the service?
"Welcome."

What books did the congregation use during the service?
Service leaflet with hymns and litanies printed on it.

What musical instruments were played?
Piano prelude and accompaniment to two of the three songs that the congregation joined in. A guitar, tambourine and some object that I couldn't see clearly was struck with a drumstick while the Baptist quartet sang during the offertory. The interfaith choir sang a cappella, as did the congregation for the final hymn in Hebrew.

Did anything distract you?
Not really.

Was the worship stiff-upper-lip, happy clappy, or what?
As ecumenical as it gets. With representatives of the world's three major monotheistics religions there, the hymns and readings were chosen to be as inclusive as possible. Seven short sections of the Qur'an were read in Arabic and in English, with a brief commentary on each verse; the Lutheran minister read Psalm 100; and the hymns were carefully chosen to talk about God in general terms and to emphasize community.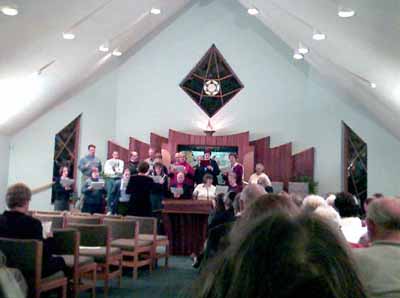 Exactly how long was the sermon?
About 15 minutes.

On a scale of 1-10, how good was the preacher?
8 – The Methodist minister who gave the homily rambled a bit at first, but he was very personable and made the group laugh several times. Especially when he brought out a Chicago Cubs baseball cap and mentioned that God is a Cubs fan. This was to illustrate that we should give thanks and appreciate creation at all times, not just the good times. Cub fans are loyal and attend the games well, even though it has been almost a century since the Cubs last won the World Series – 1908.

In a nutshell, what was the sermon about?
Joy, rejoicing, thanksgiving. That there are so many ways of having the "traditional" thanksgiving meal, depending on your tradition. But it is the same God who gives all things to all people. That the psalms are about rejoicing and lamenting but always come back to rejoicing. He quoted four different theologians, including Charlie Brown.

Which part of the service was like being in heaven?
The interfaith choir. The acoustics were surprisingly good. About 25-30 people sang together in four-part harmony. I recognized two people from my church; one fellow was wearing a yarmulke; but they came from six of the seven congregations participating, near as I could tell.

And which part was like being in... er... the other place?
The only thing that marred it for me was the thought that there are so many people who would have found the whole idea of this service an abomination: Jews, Muslims and Christians praying together.

What happened when you hung around after the service looking lost?
No looking lost! Everyone was eager to take inventory: "Hi, I'm from x, where are you from?"

How would you describe the after-service coffee?
Apple cider and (mainly homemade) cookies. Each congregation had been asked to contribute cider and a certain number of cookies. We had also been asked to make cookies without the use of animal fat (eggs are OK). There were brownies, ginger snaps, chocolate chip, a fruitcake-looking something, and a very moist frosted pumpkin bread. All that I sampled were excellent.

How would you feel about making this church your regular (where 10 = ecstatic, 0 = terminal)?
I'm not Jewish, so it's hard to answer that question. From what I saw, there is a high level of hospitality there. Also a great deal of social consciousness. They care a great deal for children, with children's drawings in the hallways and a very active education program in evidence. And the largest religious library I have ever seen in a local congregation's building. If I were Jewish, you bet I'd be there.

Did the service make you feel glad to be a Christian?
Absolutely! And glad to be in fellowship with congregations that are open-minded enough to have this sort of service, including people who are quite different from one another. Rev. Gerwing from the Lutheran church wore a clergy collar; the Islamic woman wore a headcovering leaving her face showing; and Rabbi Wasserman had a jaunty blue-beaded yarmulke. The other ministers were in street clothes.

What one thing will you remember about all this in seven days' time?
The Muslim woman reading from the Qur'an at the same table where the Torah is read, the Star of David stained glass window being directly behind and above her.