What was the name of the service?
Christmas Eve Family Celebration at 5pm (followed by a 7pm, 9pm and 11pm Communion).

How full was the building?
Quite full, pleasingly so, as this was the first of the Christmas Eve meetings. The body of the church was packed and the overflow was almost there, with 450 adults, plus teens and a hoard of children.

Did anyone welcome you personally?
Yes! Multiple welcomes from ushers and hander-outers of leaflets and pencils. Even the regulars seemed primed with a quick but chatty hello.

Was your pew comfortable?
Quite adequate.

How would you describe the pre-service atmosphere?
Chatty. Thronging. Happiness was in the air, along with a sense of "get a decent chair because there's going to be a crowd."

What were the exact opening words of the service?
"A warm welcome to our Christmas Eve Service, and especially if you are a visitor tonight."

What books did the congregation use during the service?
If you were a visiting Anglican, you would be mightily disappointed, as not a book was used.

What musical instruments were played?
A cacophony of great sound with a contemporary band (electric pianos, multiple guitars, brass – plus three young lead singers).

Did anything distract you?
The Rector's slightly raspy voice – I wondered how he would last the distance with three more services to go that night.

Was the worship stiff-upper-lip, happy clappy, or what?
About as happy as a non-charismatic Sydney evangelical meeting can be. Obviously lots of practice, high quality co-ordination, design and expertise all round. Targetted to families and grandparents, who were all pretty pleased.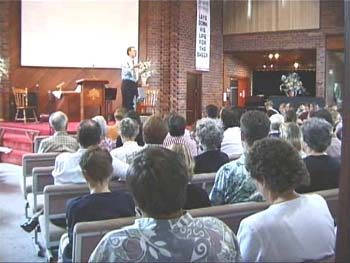 Exactly how long was the sermon?
18 minutes.

On a scale of 1-10, how good was the preacher?
7 overall. It was carefully put together in four parts around the "greatest Gift" (from John 3:16), with interaction from the congregation, the clowns and two little girls (aged about 8) who were suitably rewarded. The main blooper was that the props used in the sermon were written in CAPS, and everyone knows that children read lower-case best. However, Dr Rod Irvine was concise and personal, sharing himself and giving the opportunity for people to recommit themselves to faith or discover more if they felt prompted.

In a nutshell, what was the sermon about?
"A new gift for a new millennium."

Which part of the service was like being in heaven?
The live animals in the service were sort of heavenly – a baby lamb, a goat, calf and young rooster – but there was no lion lying down with the lamb, so it wasn't totally heavenly. The duet was pretty good, but the fast-moving liturgical dance to pop music with eight teenage nymphs and one courageous young man was pretty rousing. I don't like dance in church... normally... but then I am an Anglican.

And which part was like being in... er... the other place?
Nothing, really. This was pretty good stuff and it all fitted nicely into a concise 60 minutes. Can evangelicals do this... was I hallucinating?

What happened when you hung around after the service looking lost?
I was talked to a little and our child waited in the queues to get a nice little balloon dog. The clowns were all busy pleasing the kids.

How would you describe the after-service coffee?
Non-existent, but then it was Christmas Eve.

How would you feel about making this church your regular (where 10 = ecstatic, 0 = terminal)?
This place advertises itself as "a church to bring your friends to". Apparently it's growing fast and I would definitely go again. Is 9 out of 10 too positive?

Did the service make you feel glad to be a Christian?
Definitely. A great start to Christmas.

What one thing will you remember about all this in seven days' time?
At one point, the rooster leapt up onto the sound desk. Was this a reminder not to fall away, like the disciple at Jesus's arrest... who knows?