What was the name of the service?
9.30am Holy Communion. The service also included a welcoming to a new member and the anointing and laying on of hands for a sick baby.

How full was the building?
Two-thirds full (seating capacity of about 100).

Did anyone welcome you personally?
Yes. With notebook and pencil, so that Fr John could welcome us by name at the start of the service. Fr John couldn't read the sidesman's writing, however!

Was your pew comfortable?
Very – upholstered chairs.

How would you describe the pre-service atmosphere?
Chatty, with hymns (complete with descants) piped through the sound system.

What were the exact opening words of the service?
'Let's turn to number 92 in the hymn book and omit verse 4.'

What books did the congregation use during the service?
'An Australian Hymn Book' (known as 'With One Voice' in the UK), the Holy Communion service booklet from 'A Prayer Book for Australia', and photocopied song sheets handed out during the service (they couldn't get the OHP to work).

What musical instruments were played?
Tape deck – sing-along Karaoke style! There was an organ and drum kit present, but no one to play them. The pew bulletin called for musicians.

Did anything distract you?
The sanctuary had a tropical setting, with lots of palms, and yet it was a service in Eastertide.

Was the worship stiff-upper-lip, happy clappy, or what?
Semi-informal middle of the road Anglicanism – no extremes. After the offertory hymn, the priest and congregation bantered about how wonderful the singing was and how good the organ sounded on the tape.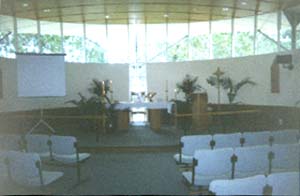 Exactly how long was the sermon?
24 minutes.

On a scale of 1-10, how good was the preacher?
6 – he sat on a chair in front of the sanctuary to address us. From the back it was a bit hard to see him.

In a nutshell, what was the sermon about?
Think big!

Which part of the service was like being in heaven?
The openness and friendliness of the congregation.

And which part was like being in... er... the other place?
Having to be at church at 9.30am on holidays!

What happened when you hung around after the service looking lost?
About five people asked us to stay for a cuppa. After getting our cup of tea, the lady who had been welcomed into the congregation during the service made a big effort to talk to us, which was lovely.

How would you describe the after-service coffee?
Tea from a big enamel teapot.

How would you feel about making this church your regular (where 10 = ecstatic, 0 = terminal)?
8 – if only we lived closer!

Did the service make you feel glad to be a Christian?
Yes. It had a lovely relaxed holiday feel.

What one thing will you remember about all this in seven days' time?
The warmth of the people.