What was the name of the service?
Greenbelt Communion Service.

How full was the building?
The natural amphitheatre was fairly full – maybe 10,000 people were there.

Did anyone welcome you personally?
There were stewards handing out service sheets as we entered the area, but there was no handshake. It would have been difficult, and it wasn't that kind of service, anyhow.

Was your pew comfortable?
My 'pew' was the fishing stool I had brought. Others sat on the ground on coats, blankets or groundsheets.

How would you describe the pre-service atmosphere?
When we arrived, we discovered that this was going to be part of Channel 3's live morning worship programme, so we used the time before it all started to practice the songs we would be singing. The pre-service atmosphere was full of the noise of songs, the bustle of new arrivals and instructions for how to behave on TV. We even had the presenter rehearsing his intro through the sound system, which provoked some genial and ironic responses from the crowd.

What were the exact opening words of the service?
'Hello Greenbelt!'

What books did the congregation use during the service?
The service sheets.

What musical instruments were played?
It was hard to see instruments from where I was sitting (100 yards from the stage), but I saw Maggi Dawn's electric double bass and I heard synthesised stuff, guitars and drums.

Did anything distract you?
There were 10,000 other people around – so plenty of distractions. But then maybe such distractions are really part of worship?

Was the worship stiff-upper-lip, happy clappy, or what?
It was vaguely Anglican, obviously evangelical and slightly renewed in feel. However, it wasn't a big loud service and there was little clapping of hands or dancing, as there has been in previous years at Greenbelt. Instead, it felt a lot deeper. The songs were more passionate and less 'feelgood' than can sometimes happen in contemporary worship.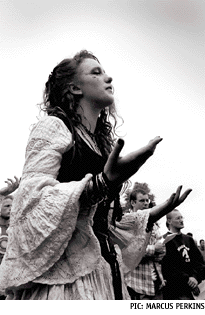 Exactly how long was the sermon?
About 15 minutes.

On a scale of 1-10, how good was the preacher?
9 or 10. John Bell was entertaining, connected with the people and made some excellent points clearly and memorably. He challenged and affirmed us.

In a nutshell, what was the sermon about?
John spoke about Jesus standing a child in the midst of the apostles, and how he pointed to the child as an example of discipleship. He used this to inspire us about the place of children and young people in our church life.

Which part of the service was like being in heaven?
The most heavenly thing about the service was the number and diversity of people. I also found myself deeply moved with gratitude to God during the singing of the communion songs.

And which part was like being in... er... the other place?
Closest to infernity? Discomfort from the seating conditions.

What happened when you hung around after the service looking lost?
Greenbelt isn't the sort of place to do this. Everybody is 'new', so the real question is: did I spot and help anyone hanging round and looking lost? No (before you ask).

How would you describe the after-service coffee?
It was either made in your own tent, or sipped at one of the cafés or hamburger stalls – although in my case, I skipped coffee altogether and dashed straight off to a seminar.

How would you feel about making this church your regular (where 10 = ecstatic, 0 = terminal)?
6. I wouldn't want to make it a once-a-week thing – imagine that field in winter! But as a regular, annual event, yes.

Did the service make you feel glad to be a Christian?
Yes.

What one thing will you remember about all this in seven days' time?
John Peck's communion prayer, which was utterly brilliant. I just hope there's a recording of it somewhere.