What was the name of the service?
The Ordination of Deacons.

How full was the building?
Packed: over 1,000 worshippers, with some people standing at the back.

Did anyone welcome you personally?
I arrived too early for that, but the Precentor (a cheery Scotsman) gave a friendly wave as he passed the candidates' vestry. A cathedral steward with the hearty, bone-jarring handshake of an ex-brigadier or colonel, wished me 'the best of luck'.

Was your pew comfortable?
I was too nervous to notice. It was large and wooden.

How would you describe the pre-service atmosphere?
A bit like before a wedding. For those of us to be ordained, it was quite tense, punctuated by light-hearted banter. As the cathedral filled up, so the friendly hubbub grew. There was a sense of cameraderie, of being there together for a special occasion, with lots of, 'Don't I know you from...?'

What were the exact opening words of the service?
'Grace, mercy and peace from God our Father and the Lord Jesus Christ be with you' (spoken by the Bishop of Winchester).

What books did the congregation use during the service?
A 15-page service booklet, printed especially for the occasion.

What musical instruments were played?
Organ.

Did anything distract you?
Incessant worrying that at the crucial moment of the service I would trip up in my nice new cassock and go sprawling onto the floor in an undignified fashion in full view of the assembled throng – bishops, canons and all.

Was the worship stiff-upper-lip, happy clappy, or what?
Splendidly Anglican. It was done as only the Church of England can do in its ancient cathedrals: long processions of canons, clergy, readers, choir, etc; thundering organ; inspiring hymns; skilfully-crafted and well-led liturgy... yet oh so restrained and dignified. From time to time I wanted to fling my arms into the air and shot 'Hallelujah' at the top of my voice – but that sort of thing just isn't done, particularly by a newly-ordained deacon in Winchester Cathedral, of all places!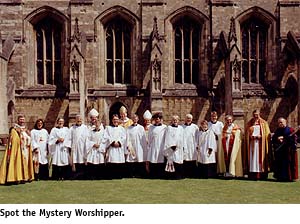 Exactly how long was the sermon?
15 minutes.

On a scale of 1-10, how good was the preacher?
6. Some memorable nuggets, peppered with quotes from people such as Austin Farrer, Bishop Geoffrey Paul and Bishop John V. Taylor... oh, and Jesus... all about Christian ministry.

In a nutshell, what was the sermon about?
Deacons are a sign of the generosity of God, a channel of God's love, and, intriguingly, 'God's court jesters. In word and life they embody the crazy, incredible paradox of redemption.' All challenging stuff, yet in a strange way, reassuring, too.

Which part of the service was like being in heaven?
The congregational singing of hymns, including 'Christ is made the sure foundation', 'Lord enthroned in heavenly splendour', and 'Lord for the years'. I was so choked up during some of these, I simply couldn't sing. Let's hope they sing like that in heaven.

And which part was like being in... er... the other place?
The nerves which consumed me so utterly before the service. Someone asked me if I was all right, and remarked that there was a look of terror on my face. I'd never felt quite like that before, but at least I didn't throw up as one of my fellow ordinands did.

What happened when you hung around after the service looking lost?
That was very hard to do. The 11 new deacons, followed by the three bishops who were there, processed out of the cathedral onto the green, and we were soon engulfed by relatives and friends keen to hug and kiss us, shake our hands and take a photo of us with a bishop.

How would you describe the after-service coffee?
If the trolley came round, it passed me by.

How would you feel about making this church your regular (where 10 = ecstatic, 0 = terminal)?
10, if there's a service like that every week. 0, if I've got to take such a prominent part in it!

Did the service make you feel glad to be a Christian?
Oh yes. And I feel glad to be a deacon in the Church of God, too. It was a service never to be forgotten and a wonderful way to embark on a new ministry – the culmination of many years of God's gentle guiding towards ordained ministry.

What one thing will you remember about all this in seven days' time?
Walking out of the cathedral, surrounded by joy-filled people singing their hearts out, and having to physically restrain myself from breaking into a jog, punching the air and yelling, 'we've done it!'