155: EvangeCube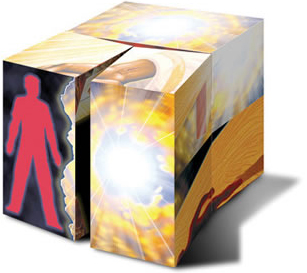 What do you get if you cross the Rubik Cube with the Four Spiritual Laws? A perfect Gadget for God, that's what. The EvangeCube (aka eCube) reduces the entire mystery of salvation to seven handy flip'n'fold pictures on a cube, enabling you to trigger a major life event in a non-believing friend in just three minutes, tops.

This "souls 'r' us" approach clearly works, though. Covered in cliched illustrations of hearts, hell-fire and nail-scarred hands, the Evangecube is a worldwide operation, and the makers have shifted over one million units in the past two years. Quantity rules.

Only $8 per cube. Click here to order. And click here for an animated demo!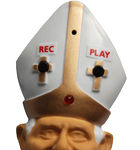 Gadgets for Papa Ratzi

Holy Father Emeritus! Add some ex-infalliblity to your life with our B16 gadgets.