111: Gospel magic glasses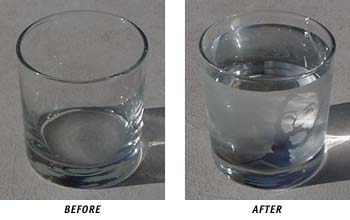 "We see in a glass darkly," said St Paul in one of his thoughtful moments. If only he'd been able to get his hands on one of Diamon-Fusion International's "Gospel Magic" drinking glasses... then he'd have seen something else entirely in his whisky glass.

The Gospel Magic glass looks perfectly ordinary when it's sitting empty on the bar. But fill it with a cold drink, and the face of Jesus appears. "As long as the liquid is cooler than the room, it will continue to show," says the manufacturer. "Even when wiped away it will reappear and can't be wiped off" – a detail St Paul would certainly have turned into a theological point. Only $20.00 for the 10 1/2 oz cocktail glass.

Thanks to Louise Yeoman, who told us about this product.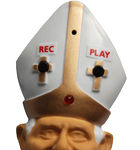 Gadgets for Papa Ratzi

Holy Father Emeritus! Add some ex-infalliblity to your life with our B16 gadgets.