106: Bible Message Camera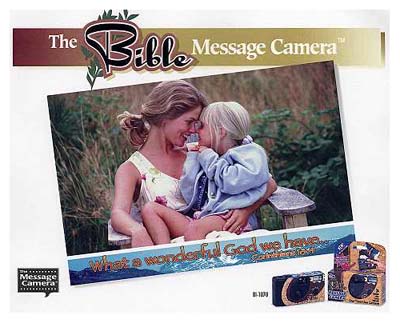 A gift for proselytizers everywhere, the Bible Message Camera offers you the perfect opportunity to witness while boring everyone to death with pictures of the dog on vacation.

Pre-loaded with 35mm "Special Message Film", this $14.95 camera brands your photos with 24 inspirational verses from the Bible in a unique, clash-with-the-photo-itself style. What better way to accent the memories of the kids' birthday parties than with various non sequitur verses?

The camera can be re-used, but be warned: unless you reload with "Special Message Film", the camera will lose its religion.


2009 update:
since we posted this gadget in 2006, the Bible Message Camera has unaccountably disappeared from the Internet.
Sic gloria transit mundi.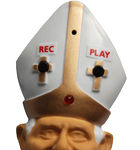 Gadgets for Papa Ratzi

Holy Father Emeritus! Add some ex-infalliblity to your life with our B16 gadgets.