142: Talking Jesus hero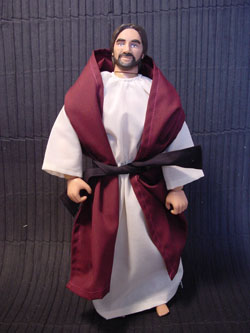 Herobuilders.com of Connecticut, USA, have announced the addition of a new hero to their ranks of action dolls – "the ONLY real hero," in fact. Standing fully 12" tall, the Jesus Christ Action Figure comes with an optional microchip, which enables him to declaim the 10 Commandments in the sort of American accent you hear on the movie trailers. Listen to him speak...



Now Jesus can stand proud alongside the other heroes celebrated by herobuilders.com. There's the heroic George Bush Action Figure for example. And the "Talking British Ally" doll, bearing the familiar features of Tony Blair. Yes indeed. Jesus has at last joined the War on Terror, on the side of the good guys.

Meanwhile, languishing among the Villain dolls, are the Butcher of Baghdad, Osama, and Uday Hussein (which must win tasteless toy of the year for recreating his dead features from newspaper photographs). And not forgetting Jacques Chirac, who spouts, "I vetoed you again, you stupid American cowboys!" at the touch of a button.

Rumours that Dick Cheney has shares in herobuilders.com are completely unfounded. Get your Talking Jesus Christ Action Figure here! Only $34.95.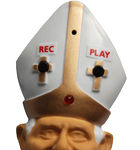 Gadgets for Papa Ratzi

Holy Father Emeritus! Add some ex-infalliblity to your life with our B16 gadgets.